Hi all! I was so excited the other day when I ran across this $5 Days 'Til Christmas countdown truck at Walmart. It was so cute but it was grey. Why grey and not red, after all it's for Christmas time. What were they thinking, no matter it's an easy fix so I snatched one up, wishing now that I had grabbed a couple more. Let me show you what I did to turn this boring grey truck into this cute Days 'Til Christmas red truck, and you can be the judge.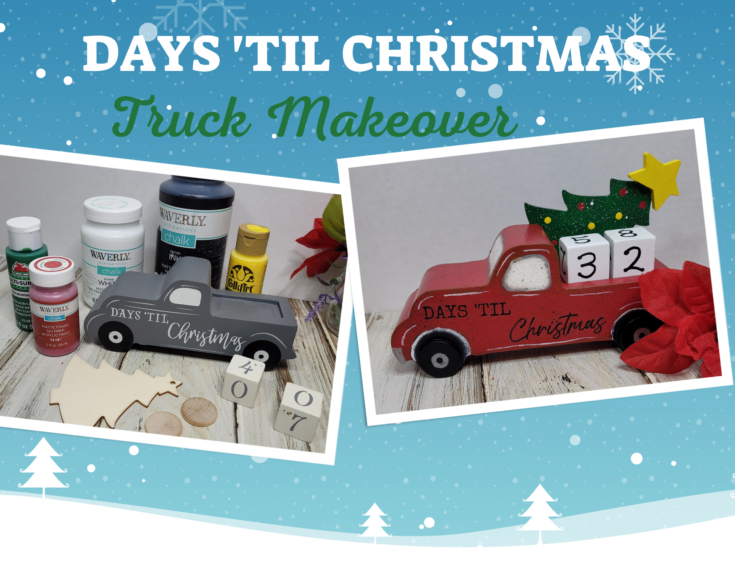 Days 'Til Christmas Countdown Truck
First thing I did was remove the wood tree and paint the whole truck red. I'm sorry I was in such a hurry to get the little truck finished that I missed out on taking some of the photos.
Next, I painted the bumpers metallic silver, the wheel areas black and the windows white.
Then I floated around the wheel area with white, and around the windows with grey. Kind of hard to see but I used burnt sienna and floated around all edges of the truck, anything red.
Digging through my wood parts stash I came up with two round disk, a wood tree, and one wood star. The round disk were painted black for the tires, the centers metallic with a small black circle.
The Days 'Til Christmas graphic was made on PicMonkey, versed then printed out from my laser printer and then transferred using Mod Podge.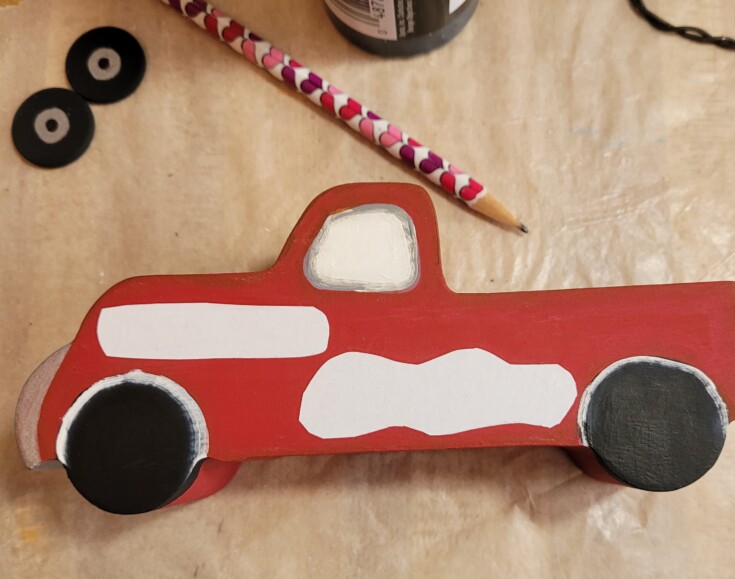 That was set aside to dry for 24 hours while I worked on painting the wood tree to look like a Christmas tree and topping it off with the wood star that I painted yellow. Then splattered with with paint.
For the days 'til Christmas number blocks I gave them a fresh coat of white chalk paint, and used a paint marker to add the numbers back on, and gave them a coat of Mod Podge.
24 hours later I used a damp paper towel to dampen the transfers and then rubbed gently to remove the paper leaving the wording in place.
Next I did a little bit more detail work
then splattered the days 'til Christmas truck with an old toothbrush and black paint.
Attached the wheels and the Christmas tree using wood glue.
And gave the whole piece two coats of Mod Podge which will help hide the film from the transfer.
That was it for this Days 'Til Christmas truck makeover. Easy Peasy! Which do you like best the grey verse or the new bright red Christmassy verse?
More Fun Christmas Projects!
Vintage funnel tree
Mini scrap wood village
Days til Christmas sign
Snowman garland on wire