Hi all! Hope all is well. I'm sorry I haven't been around much the last few weeks, and didn't get a project post done earlier. But it's been a hectic last few weeks. Started out really nice and relaxing the first week going to see my oldest daughter in Wimberly and taking a really quick Diy housewarming gift to my granddaughter made from a tin can. Then it went down hill from there.
Second week my granddaughter that was living with us got a car gifted to her from her late grandpa. It ran and was in good shape just needed some cleaning, oil change, inspection, tags, and insurance (we thought). Well, the free car ended up being a money pit, but still less expensive than buying a used car with the outrageous prices now. Car needed new tires (started rotting from sitting there), new power steering pump, fan and heater fixed, and some vent thingy to pass inspection which it still didn't. Ended up being the vent thing above the gas tank, so the gas tank had to be dropped down to get to it. More money! Now has to be drove 70-100 mile without tags to reset the computer. Keeping fingers crossed no tickets and it passes this time. Then the air conditioner will need to be flushing and freon added.
Enough of that! Let's get on with my really quick Diy housewarming gift made from a tin can.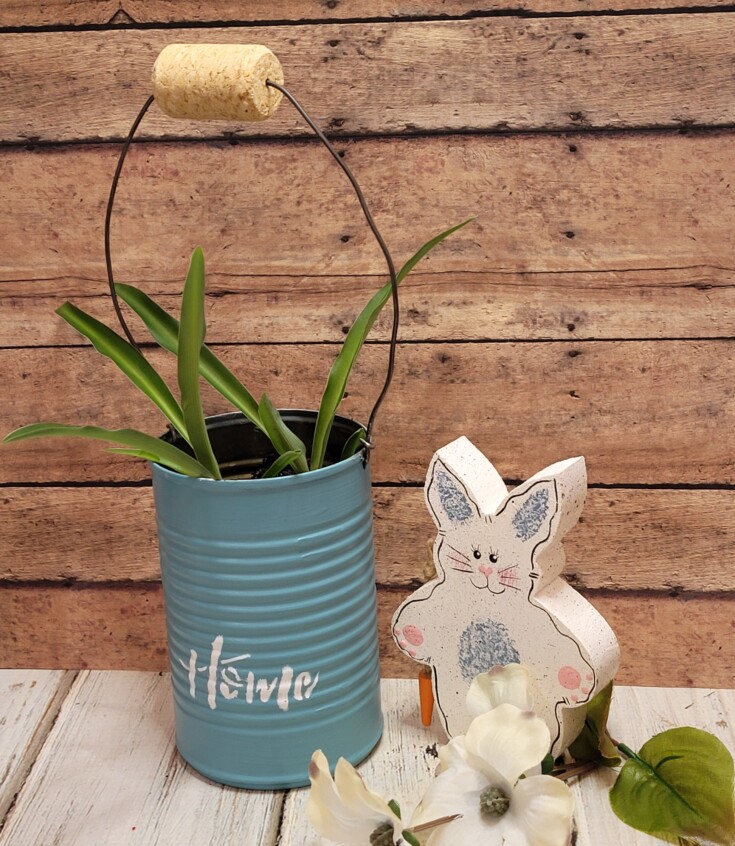 ***This post contains affiliate links… We are a participant in the Amazon Services LLC Associates Program, and affiliate advertising program designed to provide a means for us to earn fees by linking to Amazon.com and affiliated sites at no extra charge to you. Please read my full advertising disclosure for more info. Thanks so much for your support!***
Supplies Needed for Quick Diy Housewarming Gift
One empty and clean tin can
Agave chalk paint or color of choice
White chalk paint
Word stencils
Annealed wire
Paintbrush
Stencil brush
Cork
Hole punch
Pliers
Soil
Spider plant
Quick Diy Housewarming Gift
First I painted the can with two coats of chalk paint.
Next stencil the wording on the lower part of the tin can.
Once dry I then add a coat of Mod Podge to seal and protect. Let dry!
Then punch the holes in the top of the can for the handle. This probably should have been done first thing, but if you forget like I did then go ahead and punch them now.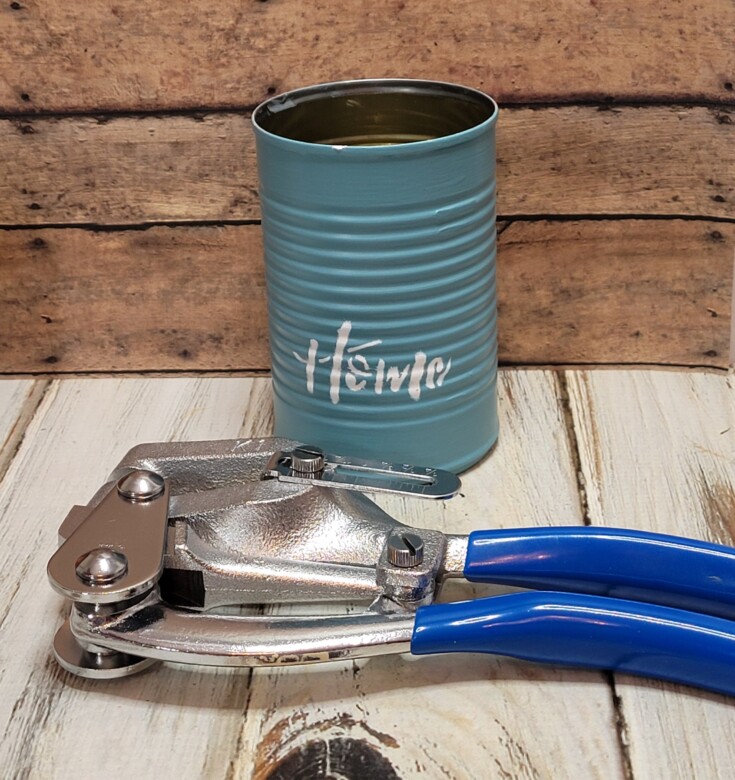 Now cut a piece of annealed wire about 16-17" in length.
Take the cork and using the wire slowly start pushing the wire in through the center of the cork. I was able to run in through the center by twisting and pushing and keeping the wire straight.
Once the cork is threaded onto the wire center it then run one end through one hole on can using pliers to twist the loose end around the other part of the wire. Then place the other end of wire through the hole on the other side of can and connect by twisting the loose end to the top part of wire like on the other side.
Now add some dirt and a baby spider plant or use for artificial flowers. That's it for this really quick Diy housewarming gift!
More Fun Tin Can Projects!
Decoupaged tin cans
Easy diy tin can pumpkins
How to make rusty tin cans
Texas flag tin can pencil holder
Santa suit