Hi all! Today I am going to share how to make a fun Scarecrow tissue dispenser for the holidays. If you like this mason jar tissue dispenser then you may also like my pencil jar tissue holder, or this farmhouse style mason jar tissue holder.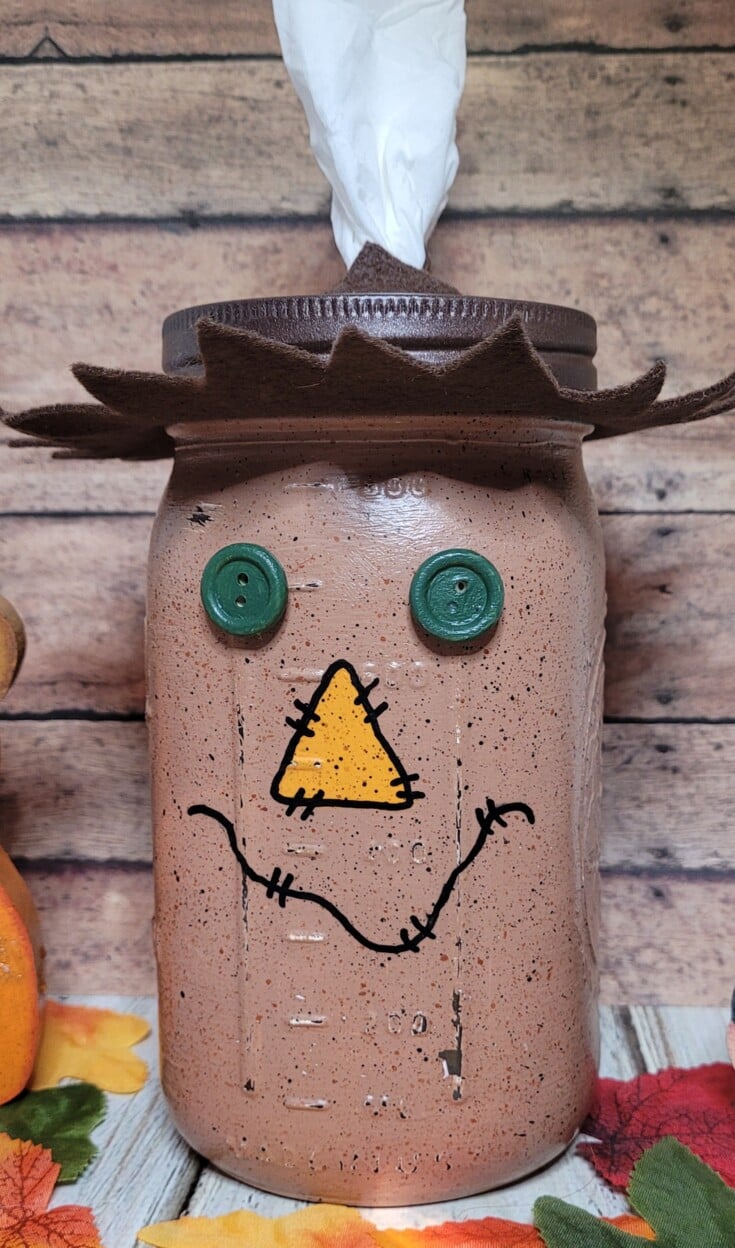 ***This post contains affiliate links… We are a participant in the Amazon Services LLC Associates Program, and affiliate advertising program designed to provide a means for us to earn fees by linking to Amazon.com and affiliated sites at no extra charge to you. Please read my full advertising disclosure for more info. Thanks so much for your support!***
Scarecrow Tissue Dispenser Supplies
Quart size mason jar with lid rim
Acrylic paint, Black, orange, green, burnt umber, tan
Ivory chalk paint
Elmer's craft glue
2 wood buttons
Paint brushes
Brown felt
Scissors
Pencil
Brown hammered Rust-o-luem spray paint
Fine grit Sandpaper
Kleenex perfect fit
Scarecrow Tissue Dispenser
Start off base coating a clean quart size mason jar with ivory chalk paint. (I used ivory chalk paint to base coat the jar because it adheres to glass well and I didn't have any tan chalk paint).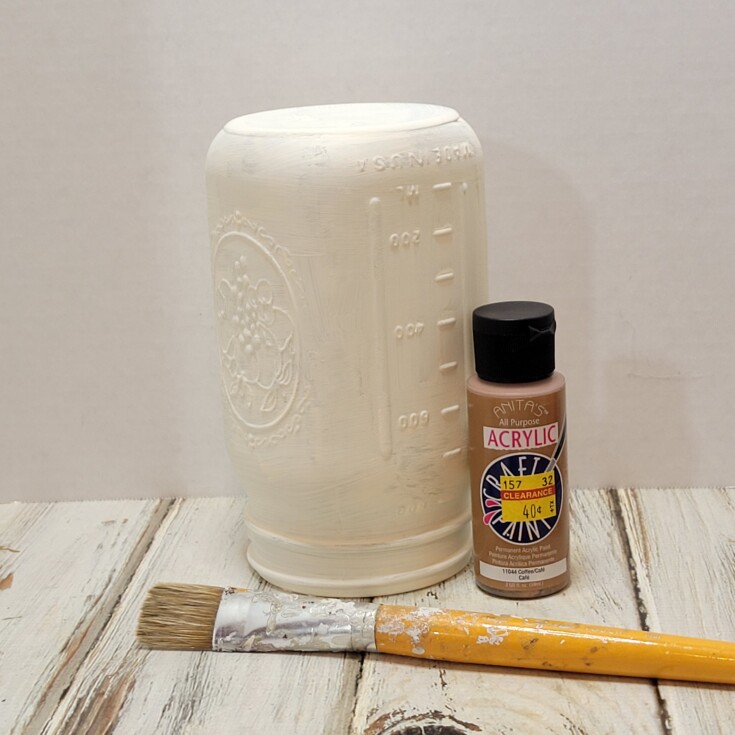 Next, I gave the jar two coats of tan acrylic paint. Drying thoroughly between each coat.
Paint the wooden buttons with two coats of green paint.
I took the lid rim outside and spray painted it with brown hammered Rust-o-leum spray paint.
Fine grit sandpaper was used to distress the scarecrow tissue dispenser.
Then I used orange acrylic paint and added the scarecrows nose, and glued on the button eyes using Elmer's craft glue.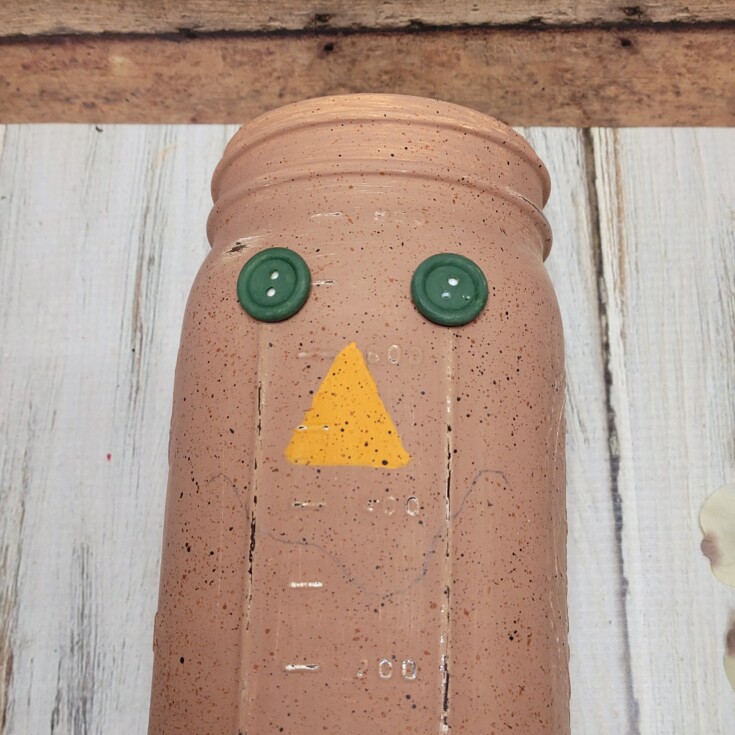 Next came the mouth and detailing around the nose.
For the splattering I used burnt umber and an old toothbrush.
A piece of round brown felt was cut the size of the lid rim. Cut two slits in shape of an X for the opening for the Kleenex to go through, then glue the felt down inside of the rim.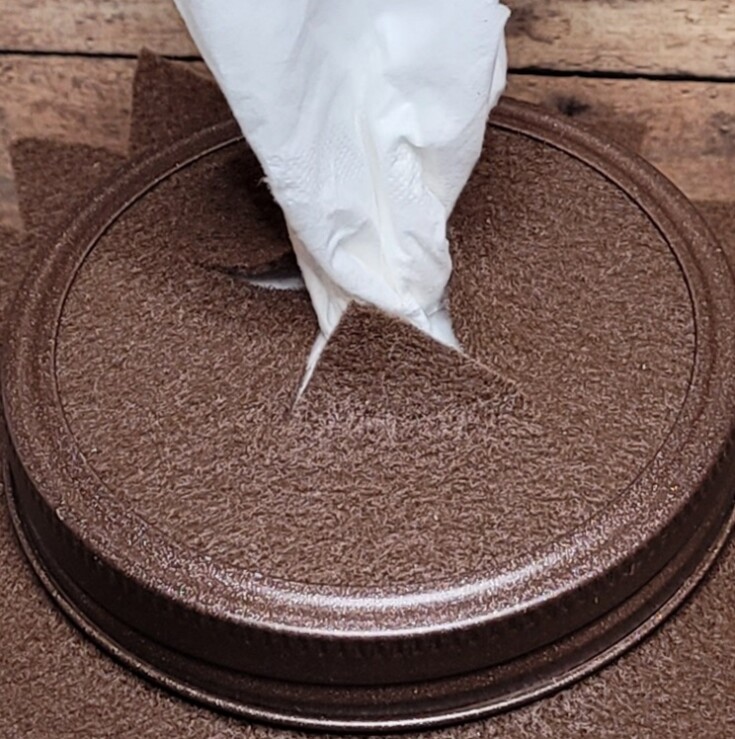 For the scarecrow Kleenex dispenser hat rim, I cut a larger round piece of brown felt by using a bowl for the pattern size and drawing around it then cutting it out. To give the hat rim a raggedy appearance I made cuts all around it. Center the mason jar over the felt hat rim and trace around the jar then cut out the center.
Place a round container of Kleenex perfect fit into the mason jar.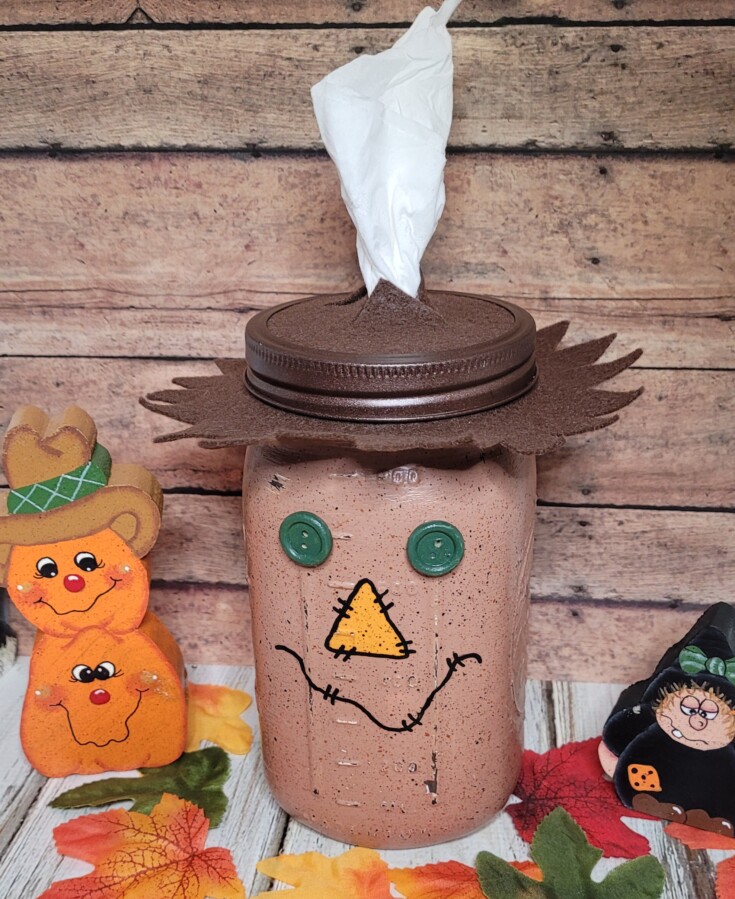 Now slide the felt over the jar neck and screw on the rim to finish off the hat. That's it for this fun fall scarecrow tissue dispenser.
More Fun Fall Crafts!
10 minute block pumpkins
How to make a fall pickle jar pumpkin
Easy diy tin can pumpkins