Hi All! I guess everyone is getting back into their normal routine with the kids back in school. Mine are grown so I stay in my routine year-round. Which is go to work come home and work. Work Work Work! Do you feel that way too? For my fun I create things, and makeover things like this vintage train case that I picked up at a vintage shop a few weeks back.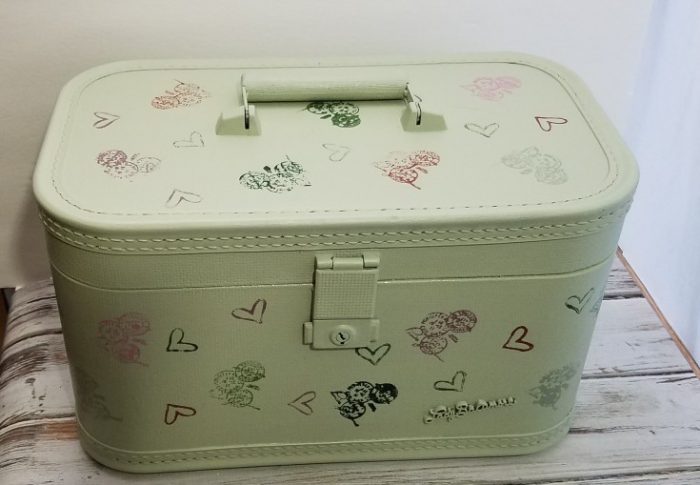 I have been wanting a vintage train case for sometime, but not willing to pay the high price for one. I found this one when the hubby and I were out thrifty. This one dates back to the 1950's. I paid $10 for it, little more than I wanted (Hey I'm cheap) but since I was going to redo it, and keep it for myself I went ahead and purchased the case.
Can you believe I didn't even know the name for one of these vintages cases was a train case? I grew up referring to it as a toiletry case or just a small suitcase.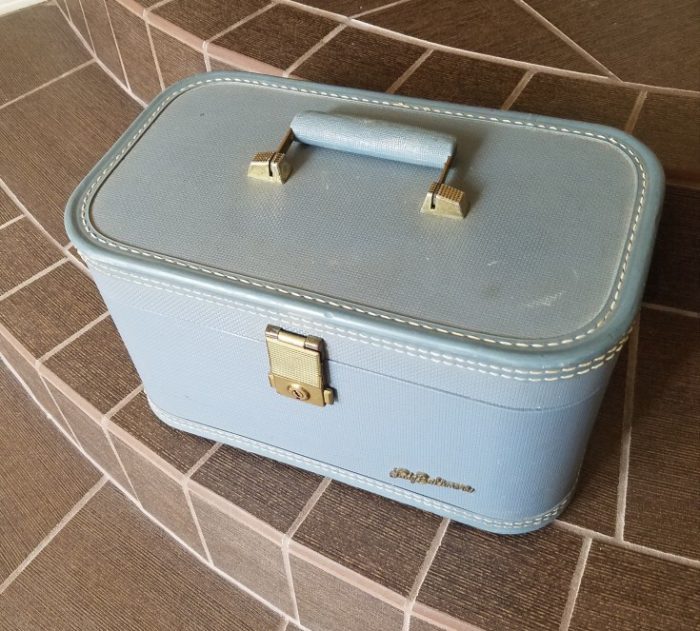 But train case makes perfect sense, it's small and traveling by train you needed something small.The little case was in really good shape. The inside was a little gross, but that didn't matter because it was going to get a whole new look inside and out. (Material list at the bottom of the post)
How to Makeover a Vintage Train Case
To start out I wiped the case down inside and out with vinegar and water.
Then I chose the color Celery from my small chalk paint stash for the outside of the case. It took two coats, I also painted the inside edges of the case above the liner.
Then I went shopping at one of my favorite stores Hobby Lobby to find the perfect material for the inside of my vintage train case makeover.
This is the fabric, and cord that I chose. Don't you think this fabric is the perfect choice for a traveling train case?
Finding the cord to go around the top, and bottom seams was a little more difficult to find. They didn't have anything to match, so I bought this with the thought of just painting it. But after getting it home I think it will be just find as is.
Excited to get started I made my pattern for the bottom, top, and side pieces for the inside liner of my case. Then cut them out of my fabric.
I don't know why I didn't think to rip the old liner out of the case all together, but I didn't. Instead I just Mod Podge the fabric on over the old liner. Oh well I can just give it another makeover if I ever want to change it up. Isn't that what us Diy'ers do anyway? LOL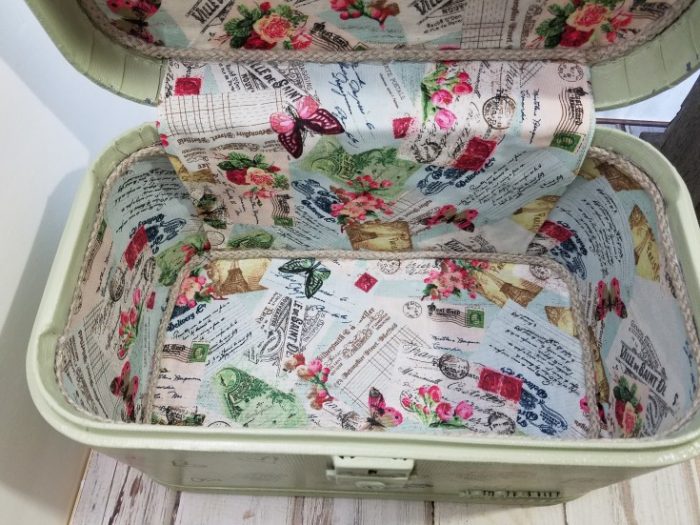 Next came adding the cord around the top edges of the fabric, and around the bottom seam where the fabric meets. I used hot glue for adding the cord. I did the same around the top lip of the case as well.
This next step I debated whether to leave the fabric as is or to add a coat of Mod Podge over it. The Mod Podge won out. I figured the extra coat would protect the fabric, and make it easier to clean if something was to spill on the inside.
Now back to the outside, it needs something else. At first, I was going to cut out some of the post card patterns that's on the fabric that I used for the inside. Then decoupage it to the outside, but decided against that idea.
Hmmm, what to do? Back to the craft store with buying a vintage rubber postal stamp in mind. I thought that would be cute since this is a travel case.
Yay! I was in luck they had just what I was looking for.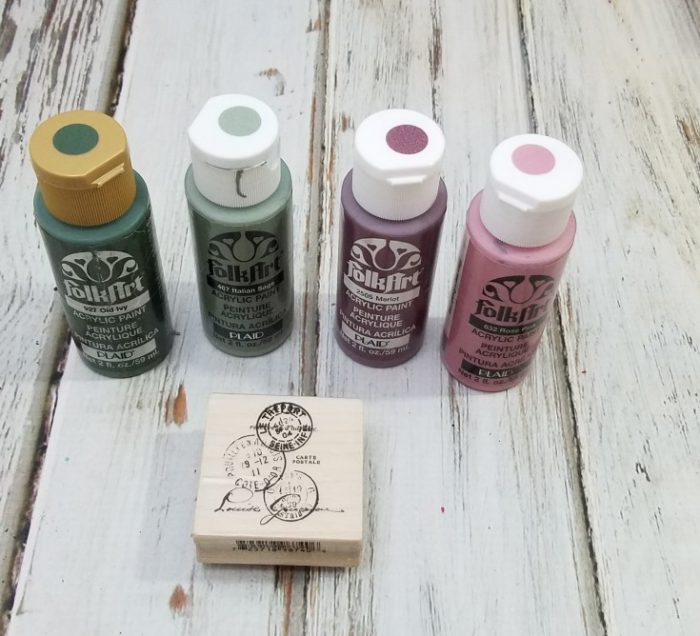 Next, I gathered up some of my acrylic paints in different shades of mauve's and green's. Adding a few drops of each color on a paper plate I then started stamping the pattern onto my traveler's case here and there changing the colors, and turning the stamp different ways.
Once I thought that I had stamped enough of the postal pattern onto my case I still had a few spots that could use a little something. So, digging through my small stash of rubber stamps that I had on hand I came up with a small heart.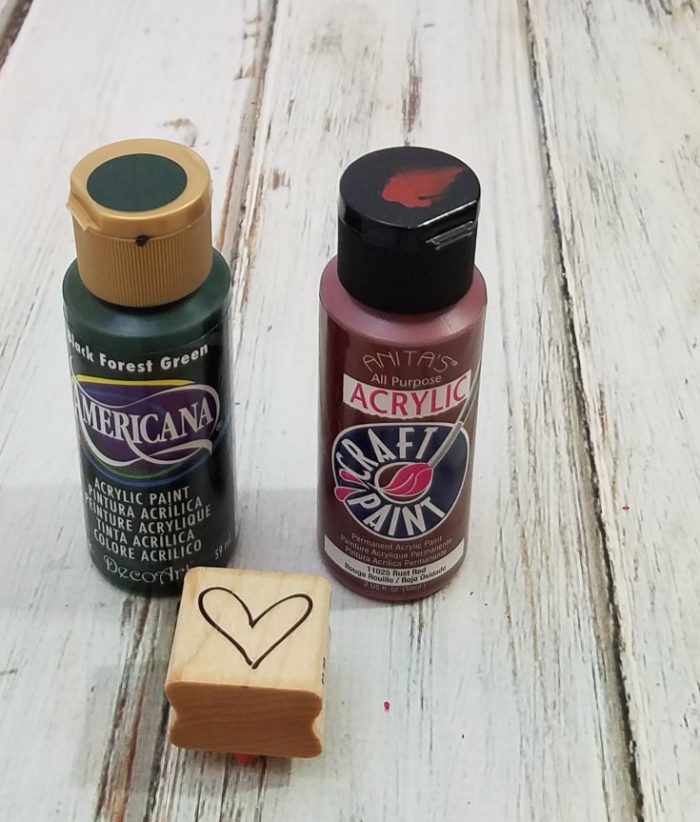 This little heart would be the perfect addition. A heart for the love of travel! I brought out a couple more colors for adding the heart. Black forest green, and rust red.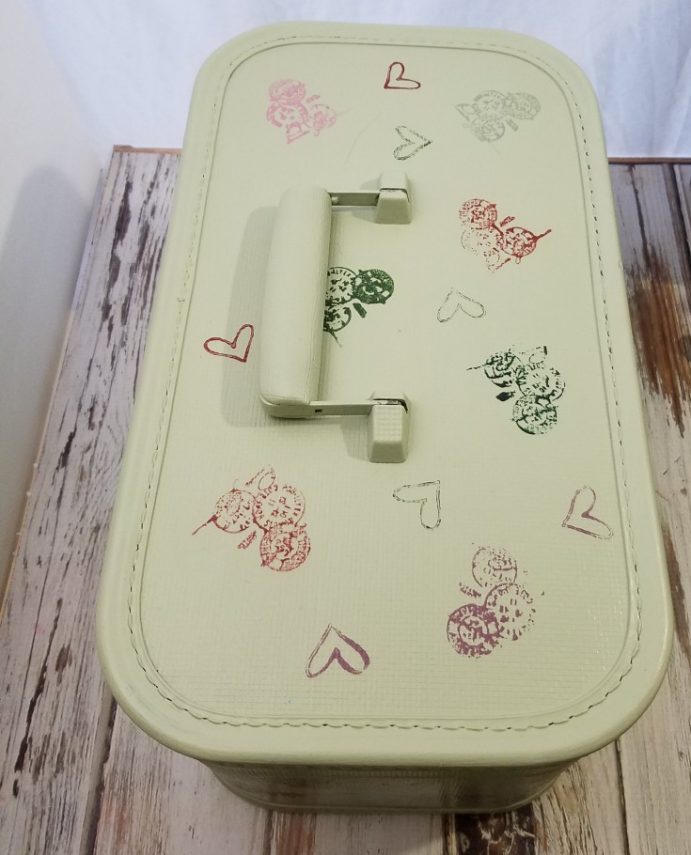 I let this dry for a couple hours then I added two coats of Mod Podge over the entire outside of the train case. Letting each coat dry thoroughly. This will help to protect my paint job and stamping.
Because of painting the edges of the case, it tends to stick now. So, to fix this problem I rubbed some olive oil to the edges so that it will open easily.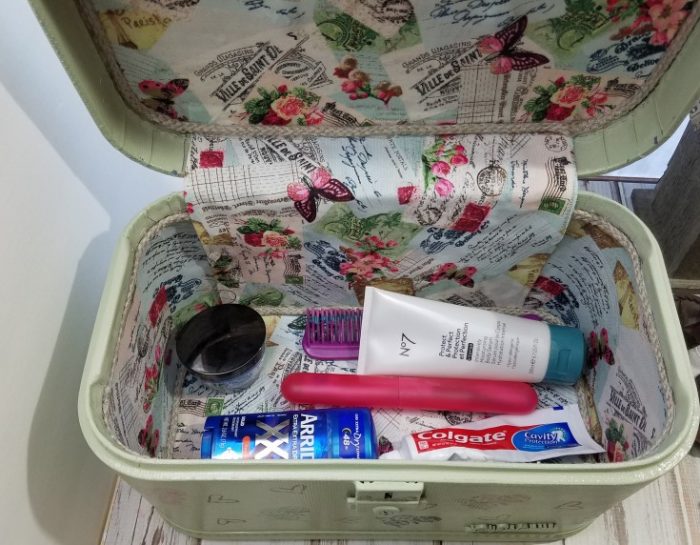 All done with my vintage train case makeover, and I am so LOVING how it turned out.
Have you ever made over a vintage suitcase? If so I would love to heard about your makeover.
***This post contains affiliate links, if you click on an affiliate link & buy something I may receive a small commission at no extra charge to you. The affiliate money I earn helps pay the expenses to keep this site running. Please read my full advertising disclosure for more info. Thanks so much for your support!***
Material List
Vintage Train Case
Acrylic paint– Old ivy, Italian sage, Meriol, Rose pink, Black forest green, Rust red
Chalk paint – Celery
Vintage Rubber postal stamp
Rubber heart stamp
Fabric of choice – I bought 1 yard but ¾ yard would probably work, I had left overs
Cord – I bought two spools of 2' each
Mod Podge
Paint brush
Hot Glue
More Fun Projects
Jewelry tray – repurposed picture frame
Repurposed chair turned shelf
Thrift store, and bundt pan makeover