Hi All! Today's project is 4 ideas for decorating a wood bunny. I picked these wooden bunnies up a t Goodwill and thought it would be fun coming up with different ideas decorating them for Easter. And I'm very happy how each one came out, just wasn't sure what to do with the wooden dowel sticking out of each bunny's back, but a little flower took care of that problem.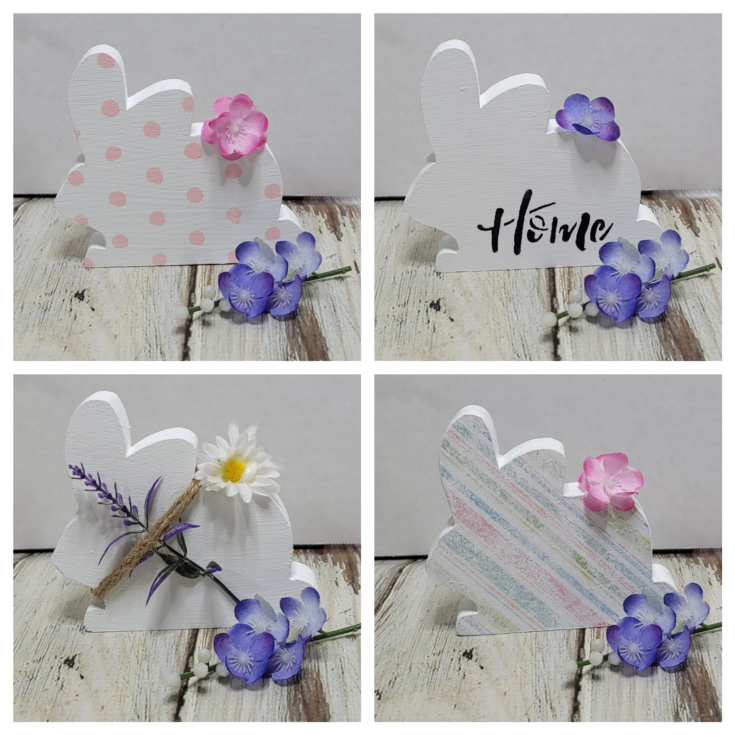 Before we get started on this project, I would like to give you an update on my mother from my last post. She is out of rehab and is now living with us and will not be going back to her house. I am looking for in home care to help me out a couple day's a week. Someone has to be with her 24/7 because she has Alzheimer's and is at high risk for falls. Four times in the last month and half, and last fall at rehab she ended up with 11 staples in the head. To weak to walk, bathe, toiletry, etc. by herself, and I'm trying to get her to eat better and get some exercise so she can get stronger. But I'm starting to think that she really doesn't want to get better, all she wants to do is sleep and that isn't happening after she kept me awake one night. She can have 1 or 2 short naps during the day but that's it, she is wearing me out and it's only been a week and a half.
It is like a switch was flipped! Two months ago, she was feeding, bathing, driving, and walking on her own with no assistance and now she needs help with everything. The day before all this started, I had taken her to the doctor because I was concern about her confusion and noticing she wasn't eating well, and that when I found out she has Alzheimer's and wasn't taking her meds so was now very low in potassium which is probably what caused her weakness, to fall and wind up in the hospital. From there we found out she only has one functioning kidney and the other is not at 100%. There she got a UTI and boy was that an experience I'll never forget. AND she fell again, not stitches but did bust her head open. I had to spend the night at the hospital to keep her com. My brother and I wonder if maybe she had a mini stroke the night she fell and had to go into hospital. So, for now I am working on trying to get her to eat better and making sure she gets her meds and working on getting her stronger. Today a physical therapist will start coming out, and I pray that helps.
Now let's get on with today's project!
***This post contains affiliate links… We are a participant in the Amazon Services LLC Associates Program, and affiliate advertising program designed to provide a means for us to earn fees by linking to Amazon.com and affiliated sites at no extra charge to you. Please read my full advertising disclosure for more info. Thanks so much for your support!***
Bunny Supply List
4 wood bunnies
white chalk paint
scrapbook paper
stencils
stencil brush
paint brush
Mod Podgejute
small faux flowers
faux lavender sprig
Hot glue
Decorating a Wood Bunny 4 Ways
First paint all the wooden bunnies with white chalk paint, front, back, and all sides.
The first idea for decorating a wood bunny I decoupaged some striped scrapbook paper on the front and back.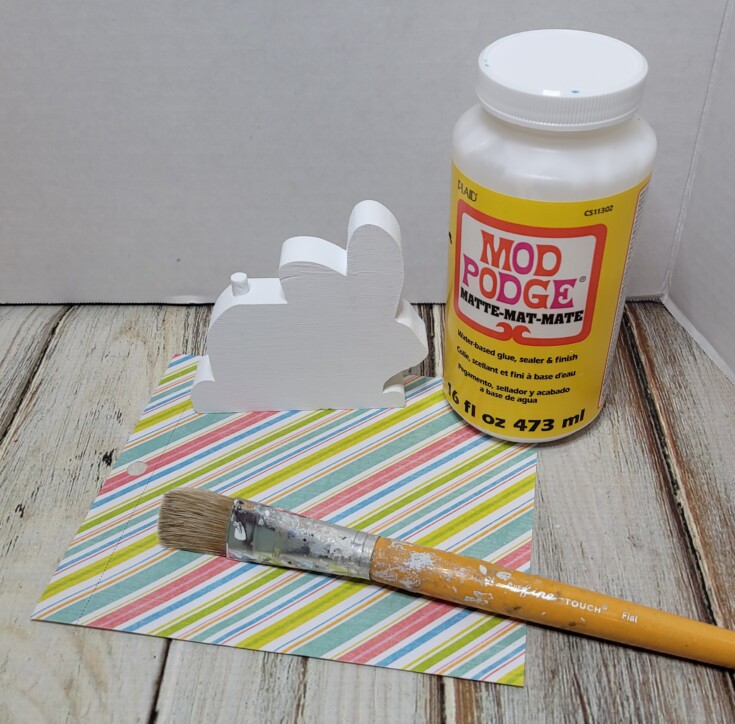 Once dry I added a coat of Mod Podge on top and let that dry thoroughly. Then trim and sand the edges.
Not liking how bright that turned out I decided to tone it down by adding white chalk paint on top of the scrapbook paper and dapping it lightly with a dry paper towel.
Second idea for decorating a wood bunny was to stencil pink dots on the front and back.
The third bunny I just tied a piece of jute around the neck and added a piece of greenery.
Which I later replaced with a lavender sprig that I found at Walmart.
Fourth way of decorating a wood bunny was to just stencil the word home on the front of the bunny.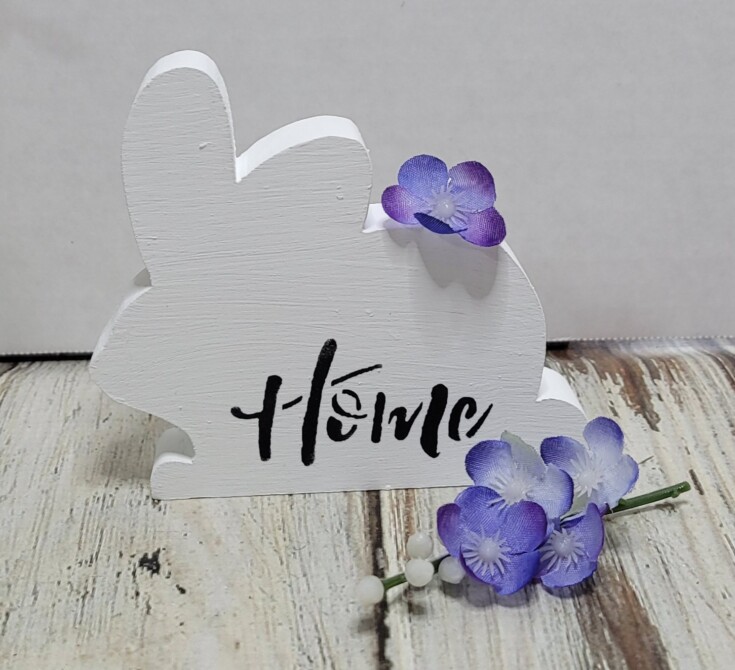 Now to hid the dowel that is sticking out of their backs I decided to just glue some small flowers in front of it.
That is my 4 ideas for decorating a wood bunny. How would you have decorated them?
More Fun Easter Projects!
Upcycled Light Bulb Carrots
Diy Painted Easter Bunny Jar
Wooden Spindle Carrots
Diy Bunny Treat Bags