Hi All! I'm finally getting started on my Christmas decor. Today I will be sharing these easy diy primitive Christmas trees. perfect craft project for the holidays.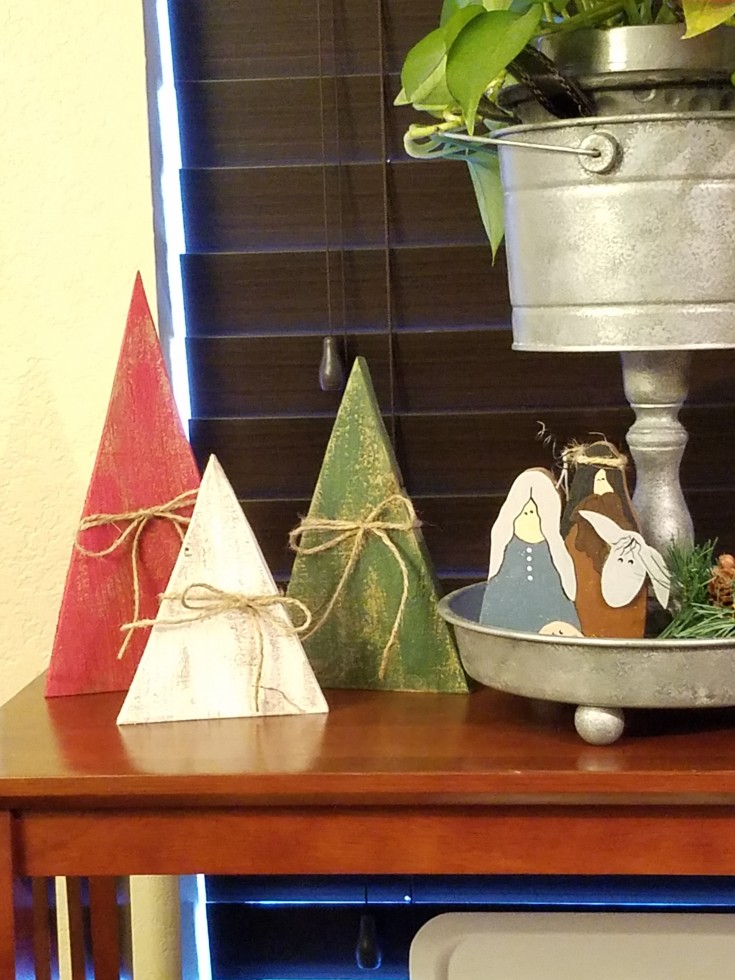 ***This post contains affiliate links, if you click on an affiliate link & buy something I may receive a small commission at no extra charge to you. The affiliate money I earn helps pay the expenses to keep this site running. Please read my full advertising disclosure for more info. Thanks so much for your support!***
Diy Primitive Christmas Trees
First I will need three wooden triangles cut from wood in different sizes. I used some of my scrap cedar wood and cut a 10″, 8″, and 6″ tall, and approximately 4 1/2″ – 5″ wide using my miter saw (quick and easy).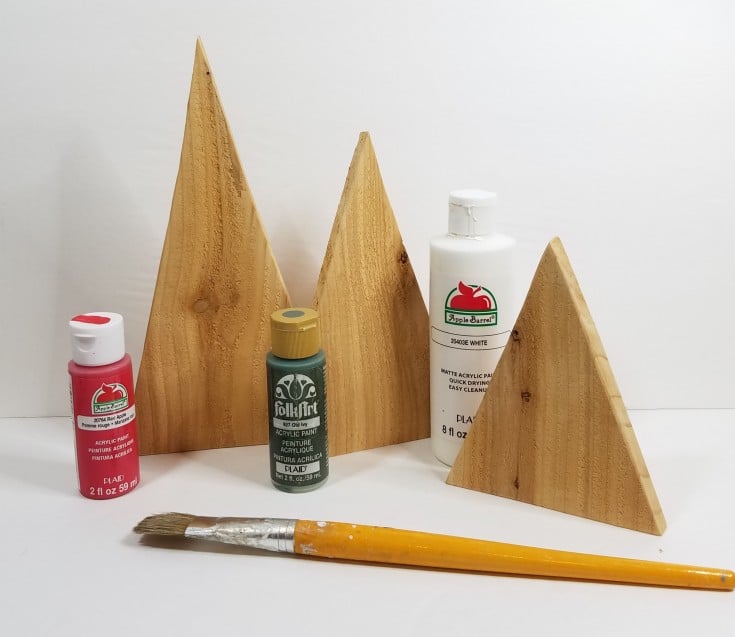 Next, I gave them a quick sanding. Then they're ready for painting. I chose the traditional colors, red, green, and white. But these would be cute in any color that you choose.
Wanting a primitive/rustic look I decided to dry brush the colors on each tree leaving bare wood showing through. Not covering the wood trees completely with paint.
Once the primitive Christmas trees were dry I used burnt umber (a dark brown acrylic) to make a paint wash. Add about three tablespoons of water to a disposable bowl, then add a couple small dollops of burnt umber. Stir and your ready for your wash which is like a water based stain.
I am just wanting to stain the bare wood and tone down the brightness of the red, green, and white.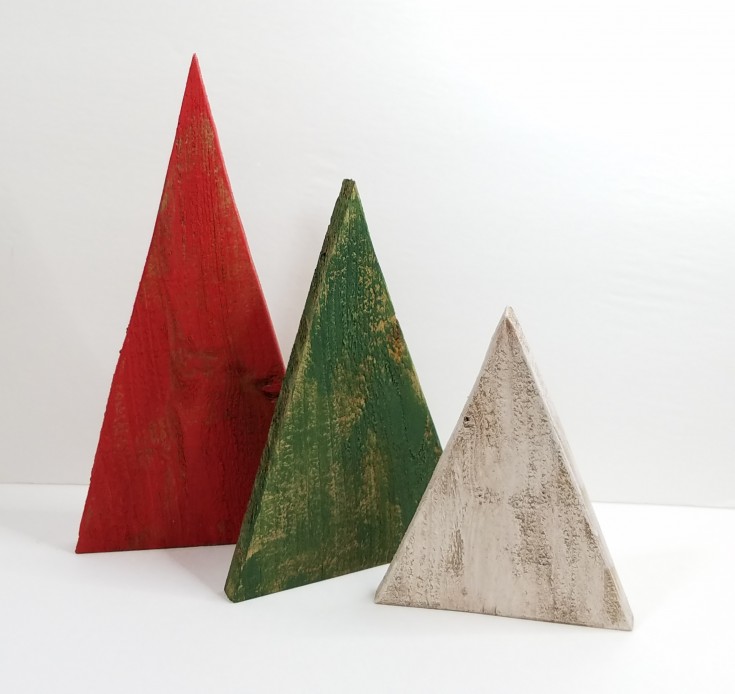 Starting on the edges of one tree brush on the watery mixture then use a paper towel to dab off. If you would like it to be darker just add more paint to your water mixture.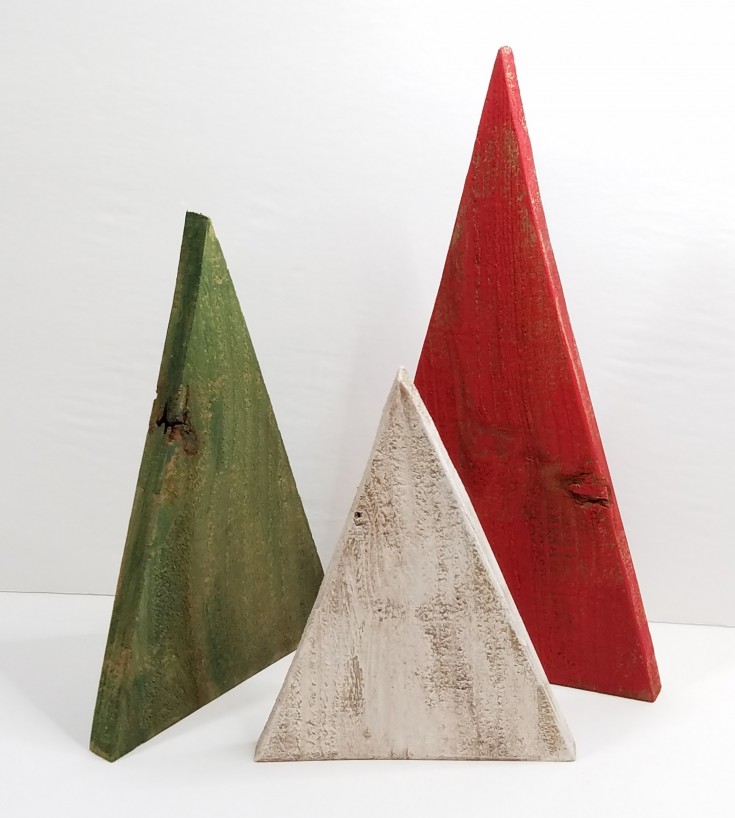 Next, add the wash to the side and wipe off, then to the other side. Set aside to dry.
Repeat for all three Christmas trees.
When all three trees are painted, stained and dry then add a twine bow if you like.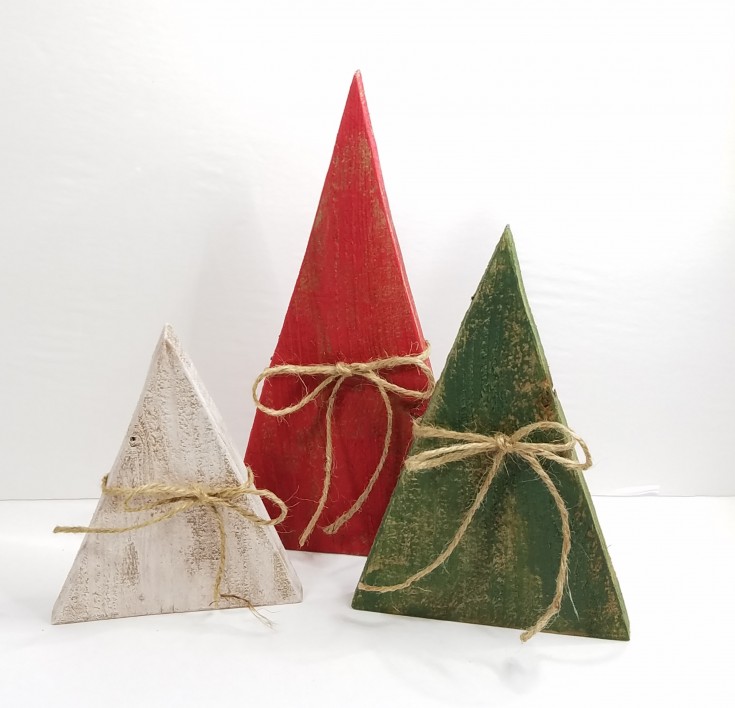 That's all there is to making these easy diy primitive Christmas trees. Wasn't this easy for some cute holiday decor? What have you been working on for the holidays?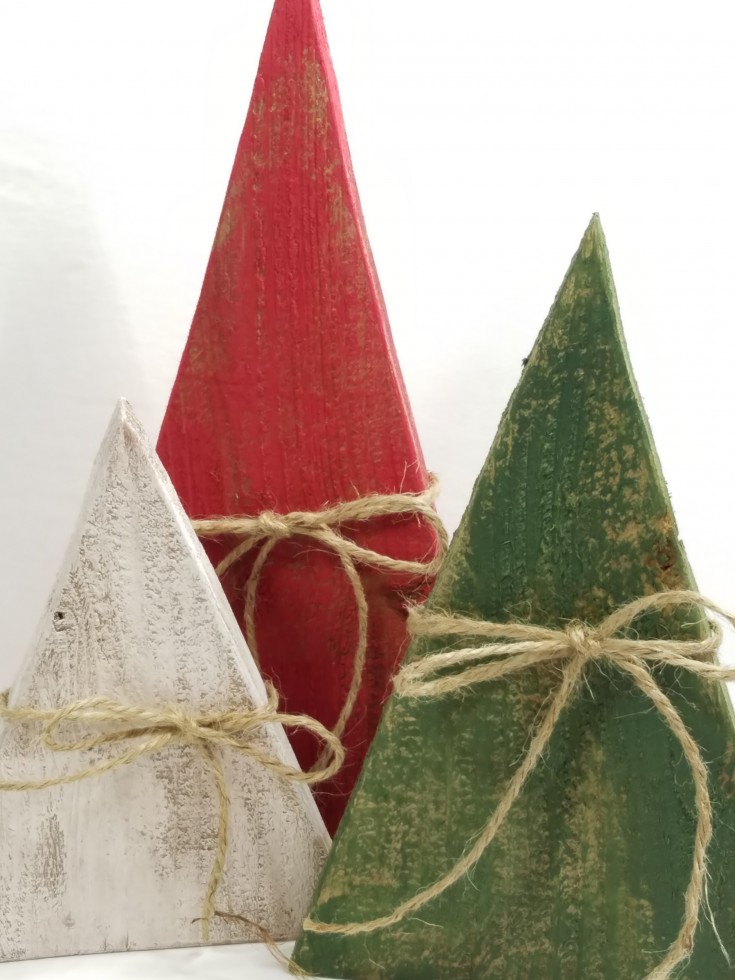 Supplies Needed for Project
3 wooden triangles/trees
Acrylic paint white, red, green, burnt umber,
Paintbrushes
Twine
Small disposable bowl for water
Paper towels
Scissors
Sandpaper
More Fun Christmas Projects
Santa Suit jar and tin can
Diy Snowman Lantern
How to paint a snowman on a cedar picket