Hi All! Today's project is three easy diy recycled wood trees made out of scrap pieces of a left-over door frame. The stands are made from Starbucks bottle tops that I rusted using this technique on how to make rusty cans.
***This post contains affiliate links… We are a participant in the Amazon Services LLC Associates Program, and affiliate advertising program designed to provide a means for us to earn fees by linking to Amazon.com and affiliated sites at no extra charge to you. Please read my full advertising disclosure for more info. Thanks so much for your support!***
Diy Recycled Wood Trees
Since the pieces from the door frame were pre-painted, I used my belt sander to sand off some of the white paint on both sides giving it the distressed look that I so love.
Once I had all the trees distressed, I used some antiquing medium to darken up the white a bit, and staining the parts of raw wood showing.
Use a paper towel to dab off any excess antiquing medium.
For the tree bases I used rusty Starbucks tops. See how to rust metal quickly using this technique.
After getting the tops rusted to my liking, I used Mod Podge to seal the lids so that the rust doesn't come off on your hands.
Then I drilled holes through the middle of each lid.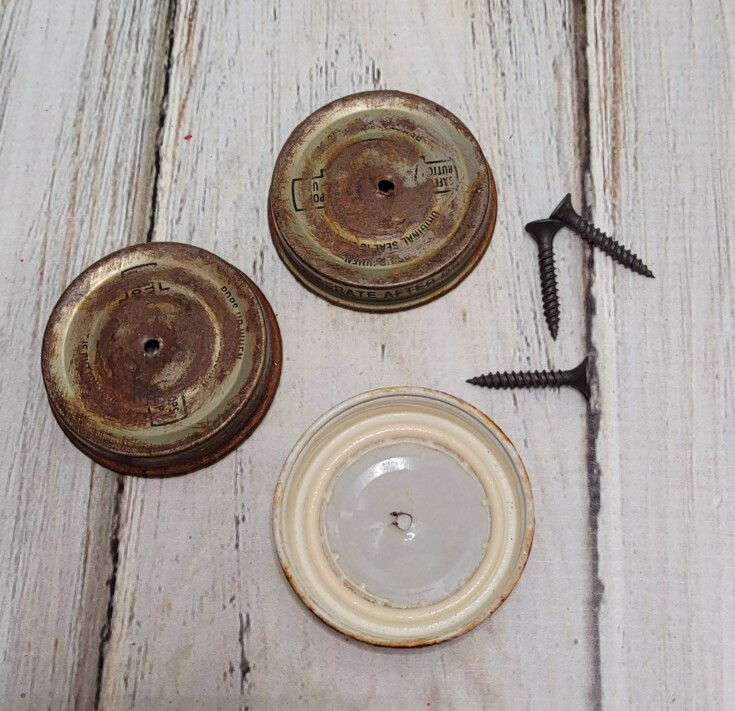 And holes in the bottom center of each tree.
The trees were attached using wood screws.
To decorate the recycled wood trees up a bit I added a wood star that I first painted yellow then antiqued and glued down to top of the tallest of the three.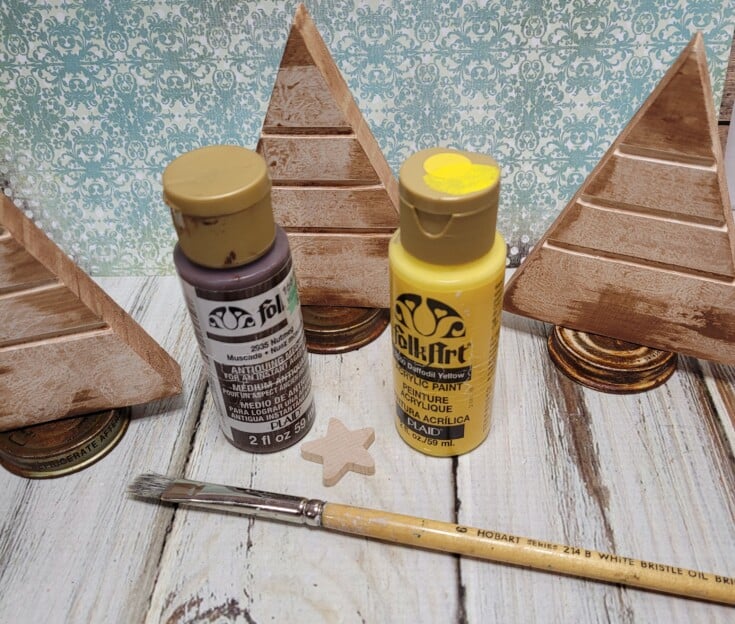 For the other two tie a piece of greenery in the center of a piece of twine then wrap the twine around each tree.
That's it for these free-standing recycled wood trees. I am loving how they turned out.
Supplies
Scrap wood -door frame
Belt sander
Starbucks bottle tops rusted
Mod Podge
Drill
Small wood star
Yellow acrylic paint
Antique medium
Paintbrush
Twine
Paper towel
3 wood screws
Christmas greenery
More Fun Christmas Trees!
Diy primitive Christmas trees
Rustic Galvanized metal Christmas tree
Hand-painted Christmas tree
Yard stick Christmas tree