Hi All! Recently I was contacted by a company called Stencil Revolution asking if I would be interested in trying out some of their stencils for free. I took them up on the offer and I picked out five thinking that they would send me one or maybe two out of the five that I picked out. But they sent me all five. Woo-Hoo more stencils to add to my small collection, and today I will be sharing a project using one of those stencils, my Farm Fresh Eggs sign.
I will be using this stencil on one of the wooden cabinet doors that I picked up at one of our junkin trips. It is the perfect size for this project.
Diy Farm Fresh Eggs Sign
First, I cleaned the cabinet door, then gave it two coats of white chalk paint to the front and edges, and one coat on the back. Years ago, when taking a tole painting class, the instructor always said "no piece is complete until you paint the back".
After that I always painted, stained, or added a wash to every one of my wood craft projects.
Once dry I centered my new stencil on my wood door and started stenciling the design on using black chalk paint.
This time I would dab off pretty much all of the paint from my stenciling brush on a paper plate. Don't want any of the paint to run, and I seem to always have a little bit run.
Once this is dry I will sand the edges and lightly sand over the stencil to give it the desired distressed look that we so love.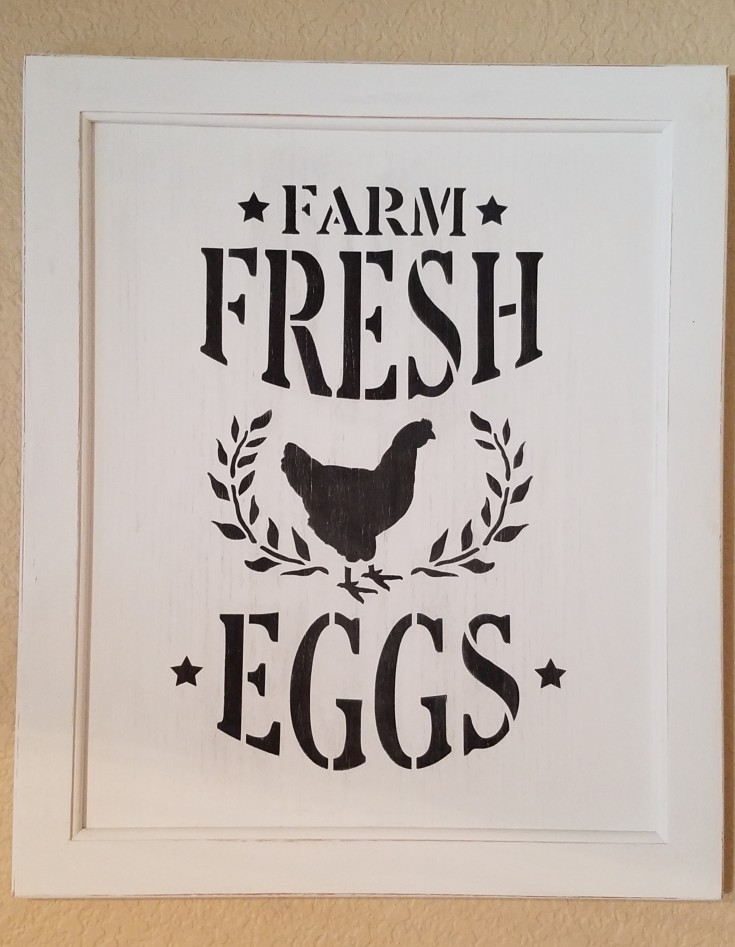 Next, I dusted it off then took it back inside of the house and added a saw-tooth hook for hanging. For heavier pieces I use my diy hanging hardware.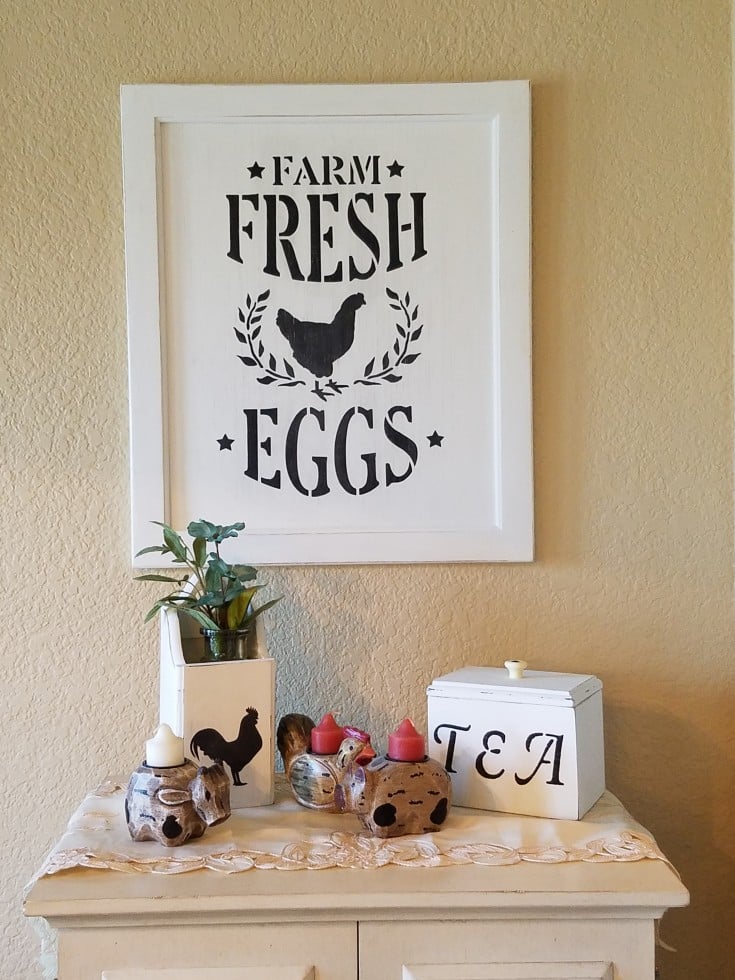 That's it for my Farm Fresh Eggs sign and I didn't get any runs from the paint while stenciling. YAY!
So, the secret of stenciling is to dab off most of the paint and just leave a smidgen of color on the brush. This is the brush (affilate) that I use, I like it much better than the sponge type stencil brush.
Here is the place I got my new stencils Stencil Revolution (This is not an affiliate link) I just like the stencils and they have a large variety to choose from, each stencil comes in different sizes as well, and are made of thick material and very durable.
Be sure to check back for more projects using my new stencils like the Farm Fresh Eggs sign. I have four more to go.
***This post contains affiliate links, if you click on an affiliate link & buy something I may receive a small commission at no extra charge to you. The affiliate money I earn helps pay the expenses to keep this site running. Please read my full advertising disclosure for more info. Thanks so much for your support!***
Supplies Needed
Farm Fresh Eggs Stencil
Wood cabinet door
White chalk paint
Black chalk paint
Stencil brush
Saw-tooth hook
sandpaper
Not a diy'er? No problem I picked out a few already made farm fresh eggs sign just for you. 😉
More Farmhouse Projects You May Enjoy!
Rustic farmhouse style utensil holder
How to update a hanging box in 4 easy steps
Farmhouse style tissue box cover