Hi All! Today I am going to share a list of 11 must-haves for crafty moms. These are items that I use on a regular basis in my craft projects. Perfect gift ideas for crafty moms for Mother's Day.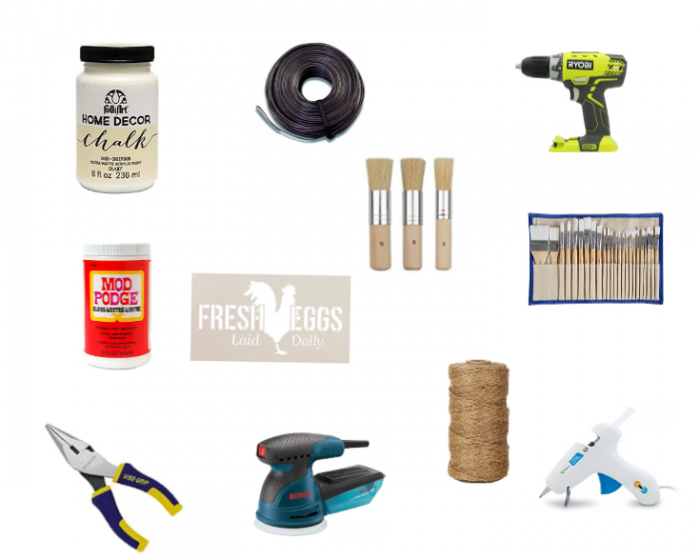 ***This post contains affiliate links, if you click on an affiliate link & buy something I may receive a small commission at no extra charge to you. The affiliate money I earn helps pay the expenses to keep this site running. Please read my full advertising disclosure for more info. Thanks so much for your support!***
11 Must-Haves for Crafty Moms
Chalk Paint – I love chalk paint because it adheres to items with little to no prep work like sanding. I use it on glass jars like this mason jar tissue holder, or my Farm Fresh egg sign on a cabinet door without any sanding.
Twine – Great for adding some rusty charm to pieces like this Harvest time mason jar, family photo display, or for hanging items.
Annealed wire for adding handles to jars like my tea light lanterns, holding photo's like this rustic photo display.
Hot glue gun the perfect choice for quick gluing projects like these upcycled light bulb carrots, or making fabric or burlap flowers.
Mod Podge can be used for decoupaging napkins on a upcycled table, and to seal and protect diy tile coasters.
Cordless drill and screwdriver are a must if you do any kind of woodworking projects like this you are loved sign.
Variety of paint brushes come in handy for different paint jobs like fine bristles for detail work or medium for the floating technique, and larger brushes for base coating projects.
Sander is another must if your crafty mom is into woodworking. It's great for prepping the wood to paint and for distressing wood like this upcycled cutting board/grater recipe holder.
Stencils are great to use in Thrift store makeovers, home décor, they can even be used on glass jars.
Stencil brush makes a big difference when stenciling. This is the one I use; I like it better than the sponge.
Pliers come in handy when working with wire and making hanging hardware.
I hope this 11 must-haves for crafty moms give you some gift ideas for your crafty mom.
What are some of the craft must-haves that you can't do without?