Hi all! Today I am going to squeeze in one more Easter project, a mini Easter Cutting Board Décor with hand-painted carrots and a carrots 5 cents print transfer. I'm usually lucky if I am able to get one Easter holiday craft project in before the holiday is here. I'm always in a rush, but this year I was able to get three, and this makes four Easter projects. Woo-hoo, I'm on a roll.
***This post contains affiliate links… We are a participant in the Amazon Services LLC Associates Program, and affiliate advertising program designed to provide a means for us to earn fees by linking to Amazon.com and affiliated sites at no extra charge to you. Please read my full advertising disclosure for more info. Thanks so much for your support!***
Mini Easter Cutting Board Décor Supplies
Small wood cutting board
White chalk paint
Craft sander
Acrylic paint – orange, green, burnt sienna, and black forest green
Reverse print – carrots 5 cents
Twine
Faux greenery sprigs
Hot glue
Mod Podge
Paint brush
Detail brush
Mini Easter Cutting Board Décor
Start by giving the cutting board a coat of white chalk paint.
Then give it a heavy distressing with a craft sander.
Next, draw some carrots or transfer a drawer to the lower part of the cutting board with carbon paper.
Base coat the carrots orange and the carrot tops in green.
Use Mod Podge to transfer the reverse carrots print.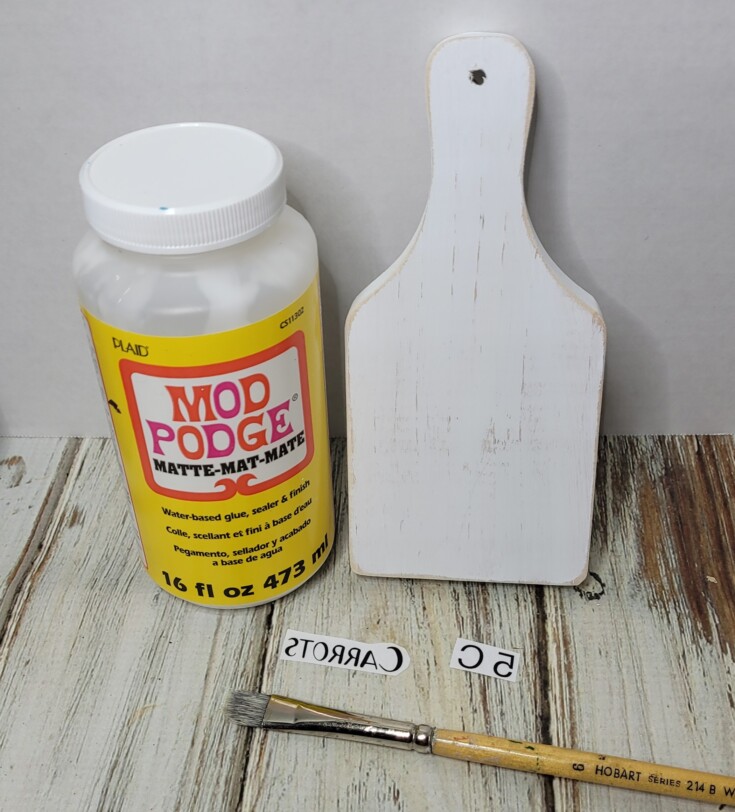 While the transfer print on the mini-Easter cutting board was drying. I used a small detail brush to add the details on the hand-painted carrots with burnt sienna and black forest green for the tops.
Now go back and dampen the transfer print with a paper towel.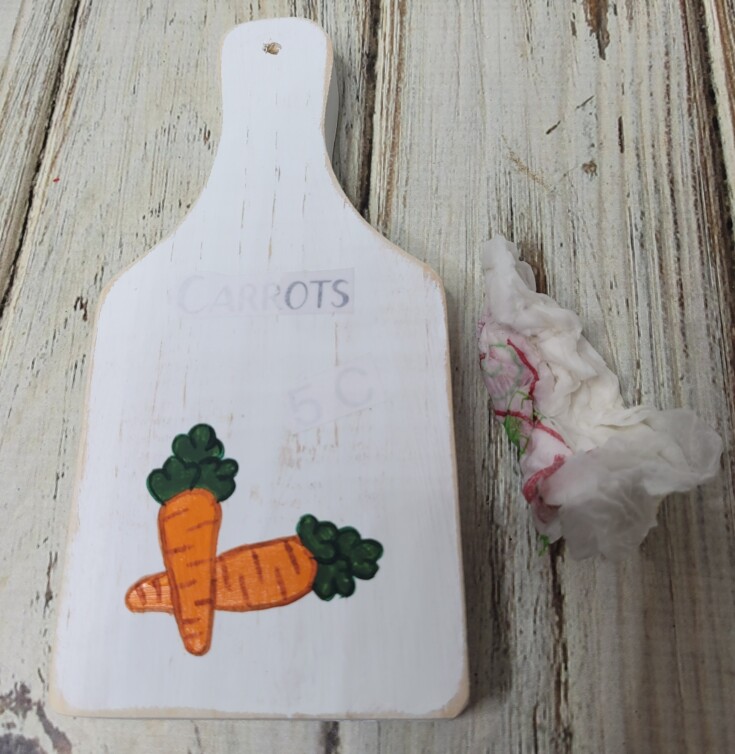 And gently rub the paper backing off till the words show clearly. Since not having a cent sign I used a black marker and drew a line through the C making my own.
Add a coat of Mod Podge to seal and protect the top of the mini-Easter Cutting Board.
Take some twine and wrap around the cutting board handle four to five times,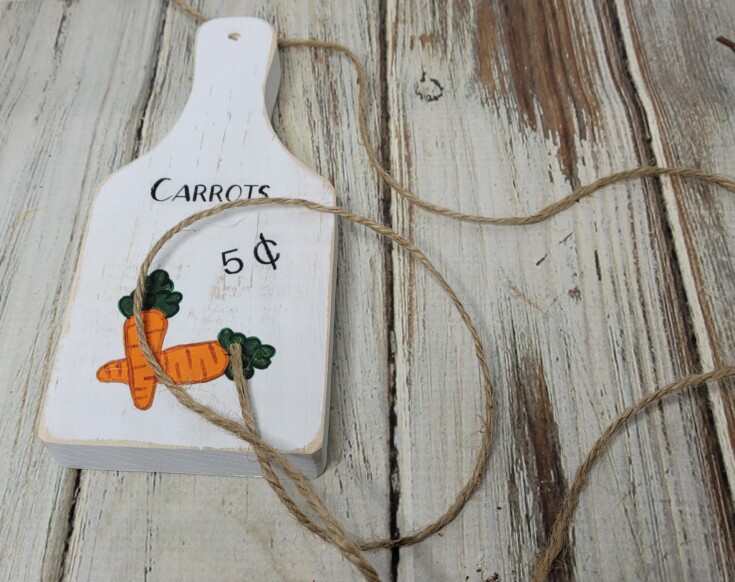 then tie a bow.
Tuck some faux greenery sprigs on top under the twine, and add a little hot glue to hold them in place.
That's it for this fun Mini Easter Cutting Board project! Do you make your own Easter Décor?
More Fun Easter Projects
Primitive Easter Garland
Wood spindle carrots
Painted Easter bunny jar
Cardboard Carrot hang tag