Hi All! It has been a while since my last post. A lot has happened since then. I had just got things going again in getting my hiatal hernia fixed when the pandemic hit and everything was put on hold. In the meantime, my granddaughter moved in with us, and boy was that a big change in our life. We love having her with us, but it has changed up our normal routine. I haven't had a teenager living in the house for over 20 years. Now our normal comfortable routine is one that jumps all over the place. As soon as school started it changed up some more. She has a job but was working mostly during the day, but now goes to school during the day and then works afterward till 9 or 10 pm. So we have to set an alarm so the hubby can get up and go pick her up. Don't get to see her very often during the week because of having to go to bed so early for work. But it does disrupt my sleep so I am always tired, more than normal. The good thing is that she has made new friends at work and school, so I am very happy for her.
Now if I could just get me fixed. Since things have started opening back up I was able to proceed with my surgery. BUT going through all the testing before surgery could take place I found out about other health issues that I need to address. One problem they don't even know what is wrong, and first thought that it was my gallbladder and was going to remove it during my hiatal hernia surgery. But was ruled out. Having surgery also created a few other problems on its own like no belching, vomiting, and learning to eat smaller meals that need to be really chewed well before swallowing. At first, certain foods would get stuck halfway down where my hernia was repaired in my esophagus, and cause a lot of pain. I am happy to say that has improved. But after all of this, I still have this chronic cough I can't seem to get rid of. I'm trying to see another gastroenterologist but the one I have now is dragging his feet about getting the new doctor my records. It took him over a month to send the general surgeon the test result of the manometry esophageal test when he was there the same day to read the results. While trying to get in to see another doctor I am finding out that a lot of people have had problems with the one I have now.
With all this going on I have thought long and hard about giving up my blog. At one point I had started writing my last post for my blog, but since then have had a change of heart. I love my blog and do not want to give it up so I am writing my return to blogging post instead of the last post. I am hoping to be able to get back to sharing a new project twice a month but will have to see how that goes with hectic new life changes. I guess that I have gotten set in my ways and don't do well with big changes thrown my way. But I'm back now and without further ado let's get on to this week's fun project. A two-sided Halloween and Thanksgiving decoration made from an old wooden ceiling fan blade.

***This post contains affiliate links… We are a participant in the Amazon Services LLC Associates Program, and affiliate advertising program designed to provide a means for us to earn fees by linking to Amazon.com and affiliated sites at no extra charge to you. Please read my full advertising disclosure for more info. Thanks so much for your support!***
Two sided Halloween and Thanksgiving decoration
First, give one side of the ceiling fan two coats of white acrylic paint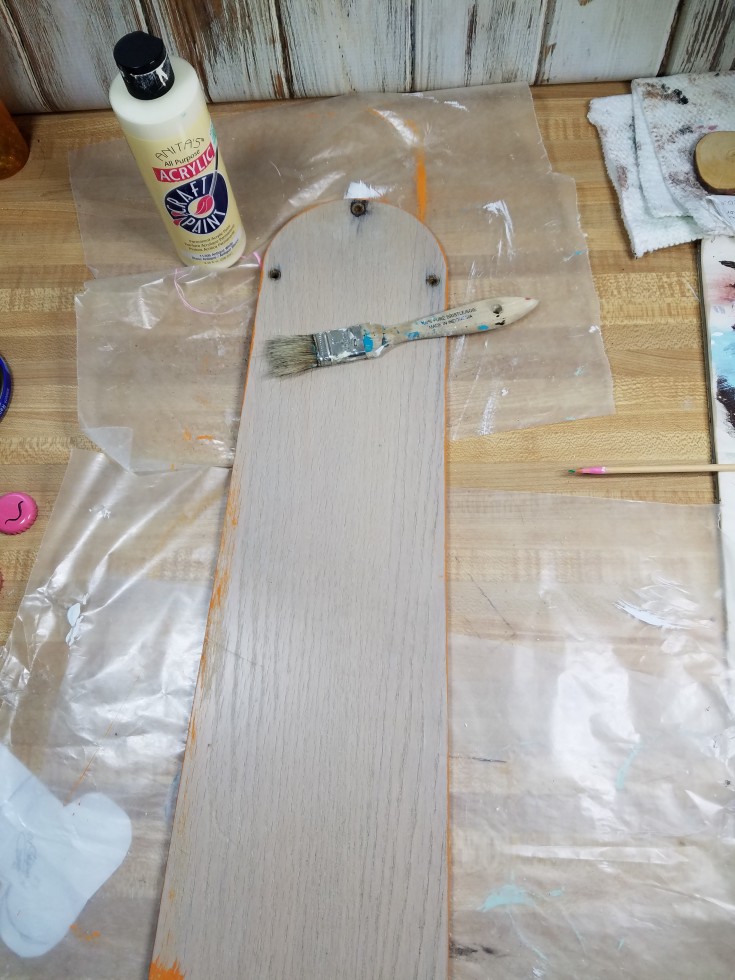 and once dry flip over and paint the other side two coats of orange.
Next, draw a face on the orange side of a jack-o-lantern.
Fill the eyes, nose, and mouth with black paint.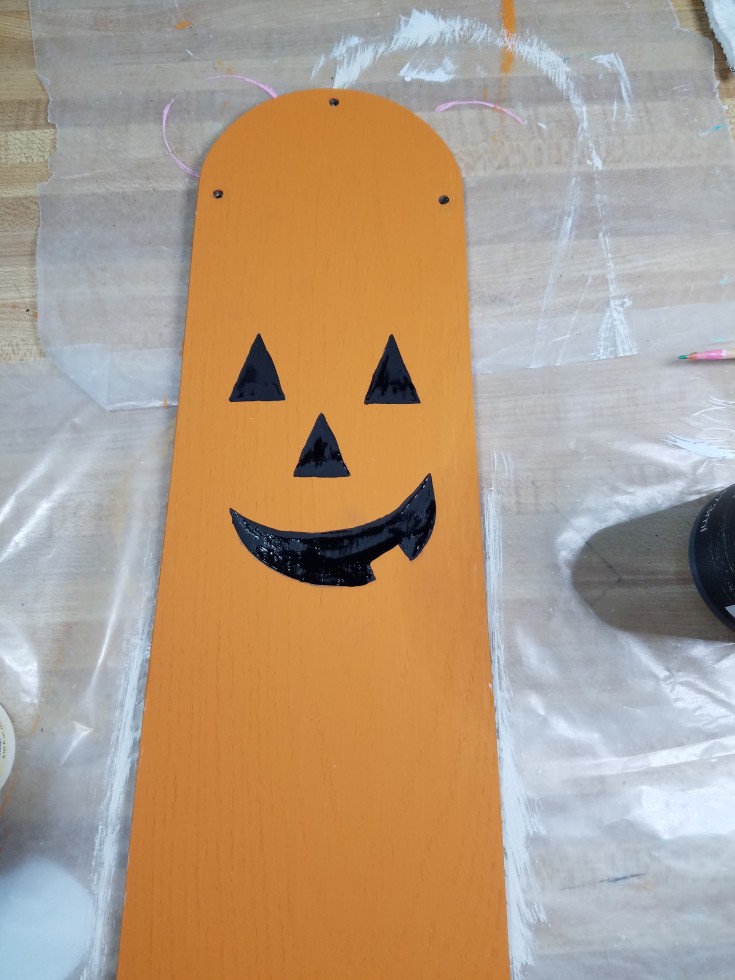 Float some white paint around the eyes, nose, and mouth.
With a fine paintbrush add some detailing around the edges of the fan blade.
That's it for one side of the two-sided Halloween and thanksgiving decoration.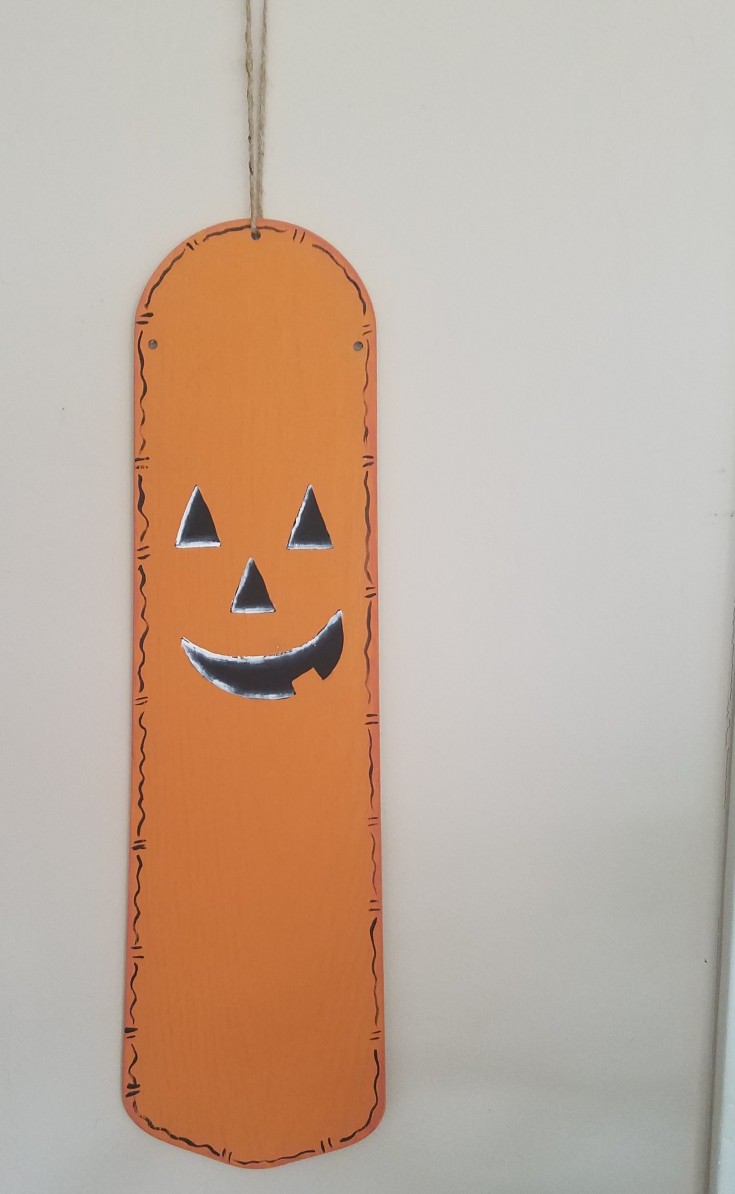 For the white side of the blade draw in a pumpkin towards the bottom. (I'm sorry I was in a hurry to get my post out and must have forgotten to take some of the photos).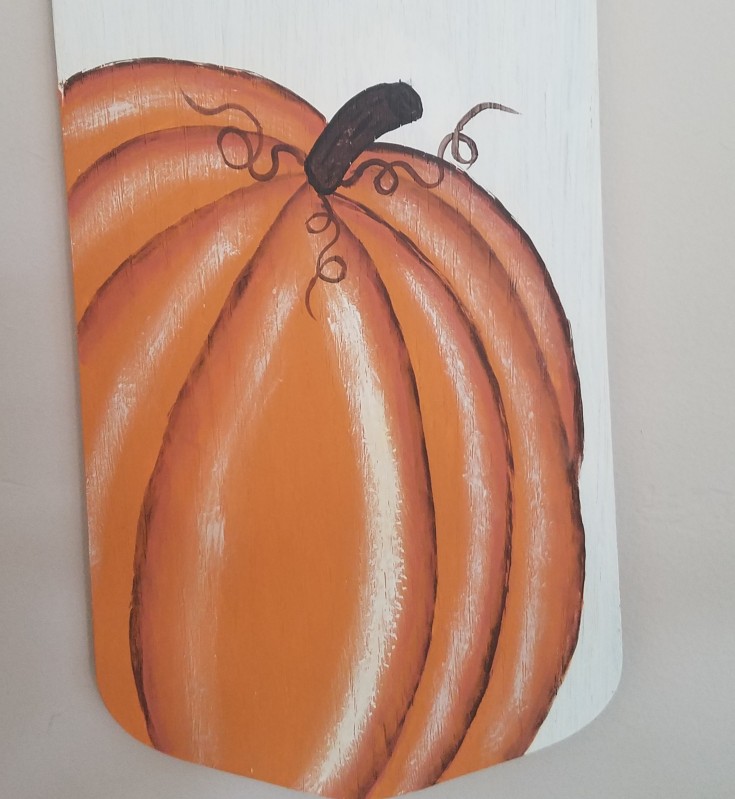 Float in some burnt sienna acrylic paint for the curves of the pumpkin.
Then some darker orange and highlight with some white.
Float in some burnt sienna acrylic paint for the curves of the pumpkin.
Then some darker orange and highlight with some white.
Fill in the stem with brown, and add a few tendrils.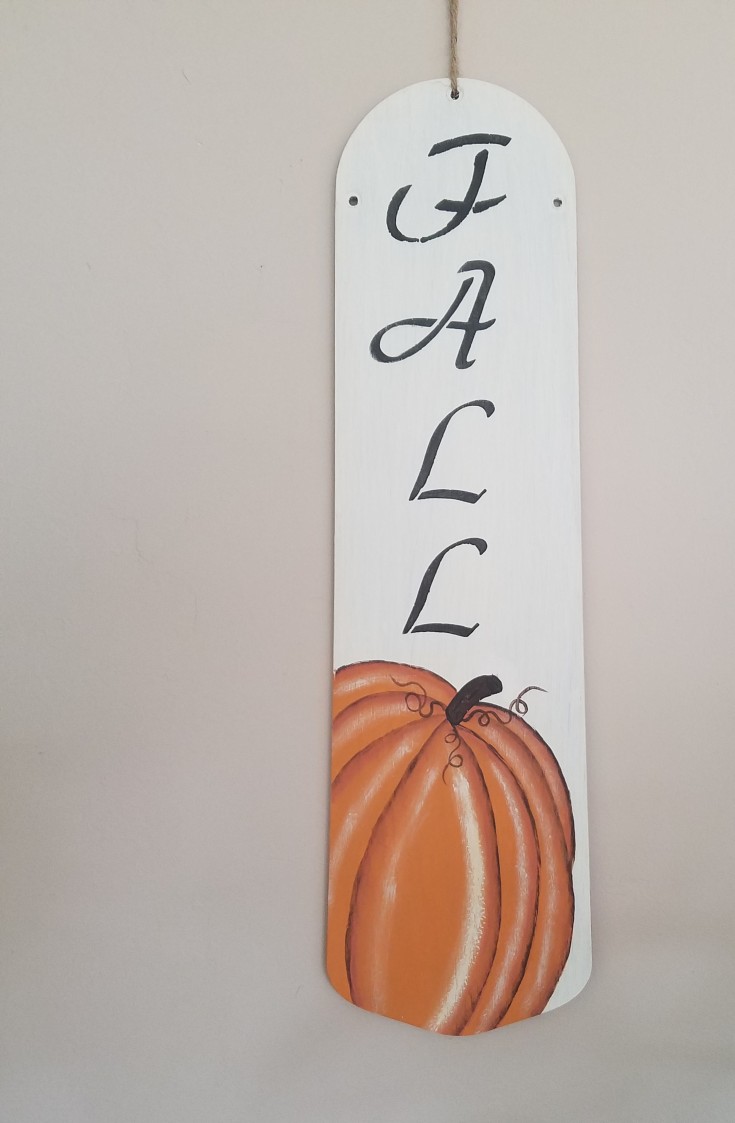 Lastly, stencil the word fall above the pumpkin to finish off the two sided Halloween and Thanksgiving decoration made out of an old ceiling fan blade. How's that for some fun and easy fall décor?  
More Fun Fan Blade Projects!
Easter Holiday Décor Fan Blade 
DIY Reversible Holiday Décor – Fan Blade