Hi All! I am getting so excited! There's only 14 more days till retirement. Then I can get on a normal schedule, and normal sleep schedule as well. No more going to bed before the chickens. Yay!!! Today I will be sharing a two step thrifty upcycle that is so easy a Tutorial really isn't necessary. Therefore this post will be very short. These two items below were found at Goodwill, a tall candle stick holder and a bowl.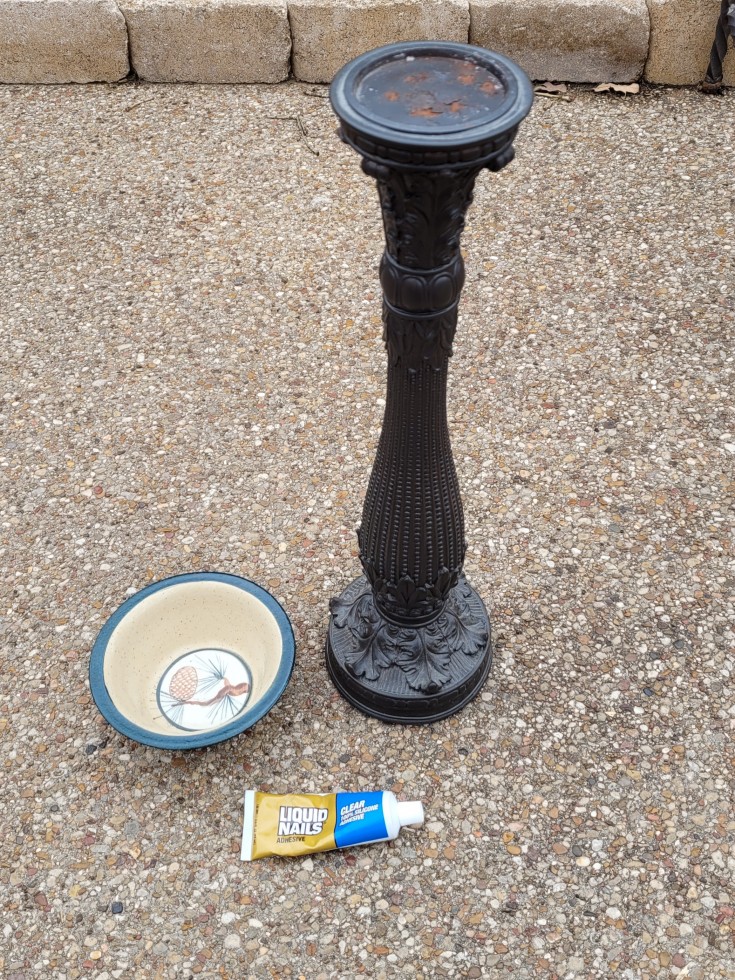 ***This post contains affiliate links… We are a participant in the Amazon Services LLC Associates Program, and affiliate advertising program designed to provide a means for us to earn fees by linking to Amazon.com and affiliated sites at no extra charge to you. Please read my full advertising disclosure for more info. Thanks so much for your support!***
Two Step Thrifty Upcycle
Once they were washed and dried the bowl was then glued to the candle stand using clear liquid nails.
I placed some rocks in the bowl until the glue dried.
That's it! Super simple way to make a birdfeeder or birdbath.
How do you like my two step thrifty upcycle? Would you use it as a birdfeeder or birdbath?
Supplies
Tall candle Holder
Bowl
Clear liquid nails
More Fun Birdfeeders
Easy DIY Candle Sconce Birdfeeder
Repurposed birdfeeder made from two thrift items
How to make a redneck bird feeder