Hi all! I've been lucky for the last few years and haven't been sick. But last week the flu got ahold of me and did not want to let go. Just when I would get to feeling better the very next day, I would have a relapse. So I am rushing around today trying to get my 3 snowmen in a can project ready to share tomorrow. This has been the longest bout of flu that I have ever had. Today makes the 8th day with two relapses, and I am hoping today I am finally on the mend to recovery. I'm ready to get back to my creating!
For this project you will need a tin can, one wood spindle, and two paint stir sticks. You can find the complete supply list at the end of the post. Let's get started!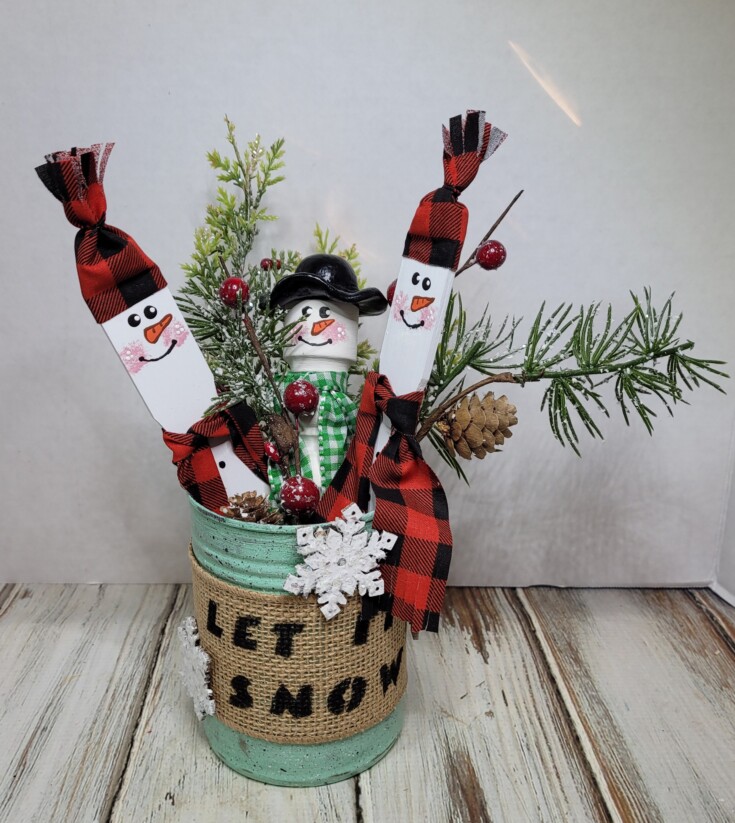 ***This post contains affiliate links… We are a participant in the Amazon Services LLC Associates Program, and affiliate advertising program designed to provide a means for us to earn fees by linking to Amazon.com and affiliated sites at no extra charge to you. Please read my full advertising disclosure for more info. Thanks so much for your support!***
Diy Snowmen in a Can
The wood spindle was cut down to 7" and the two stir sticks were cut to 8" using a miter saw. Then given two coats of white chalk paint to each.
Next, I painted the faces on each of the 3 snowmen in a can. Orange for the nose outlined with burnt sienna, rose pink for the cheeks, and black for the eyes and mouth. The white dots in the eyes and on the cheeks were added using a stylus tool.
For the stir stick snowmen sock hats I hot glued some plaid fabric on the top of their heads, added some stuffing, then tied them with some black thread and cut the tops to resemble fringe.
The spindle snowman's hat was made from air-dry clay like last weeks wood spindle snowman. Once the hat was dry it received two coats of black acrylic paint and two coats of Mod Podge.
Each of the 3 snowmen in a can got a plaid scarf around their necks. The ends were trimmed to resemble fringe.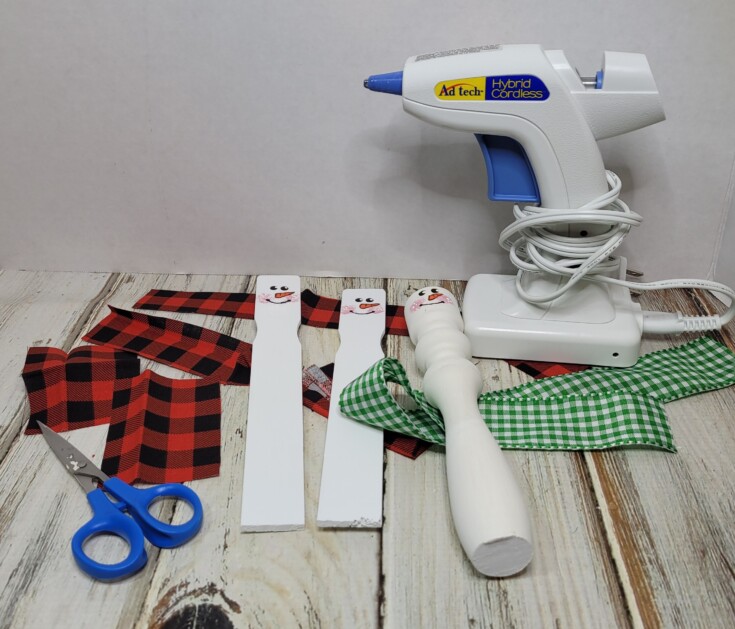 Wood glue was used to glue his hat on.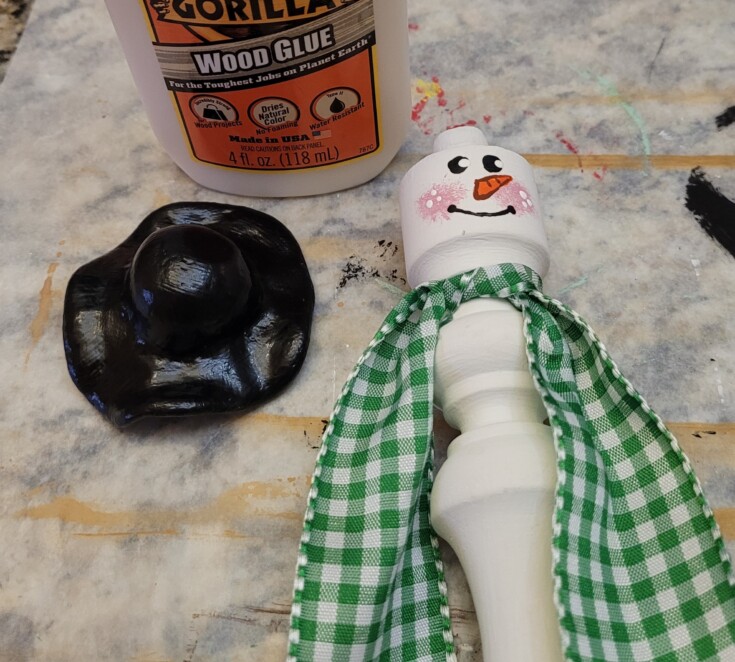 For the can I grabbed some white chalk paint and green acrylic paint so that I could mix up a pretty light green paint color for the can. I used chalk paint because it adheres to tin cans easily with any prep work. I gave the can two coats of the paint that I mixed up. Once dry I distressed the can with my nifty finger sander.
Afterwards I used black and white acrylic paint and an old tooth brush I splattered the can then gave it two coats of Mod Podge.
While the can was drying, I grabbed some burlap ribbon that was cut just long enough to go all the way around the can and stenciled the words "Let it snow" on the ribbon.
I found some wood snowflakes that I decided to add to the can so I added a light coat of Mod Podge then sprinkled some fake snowflakes over them to give them some sparkle.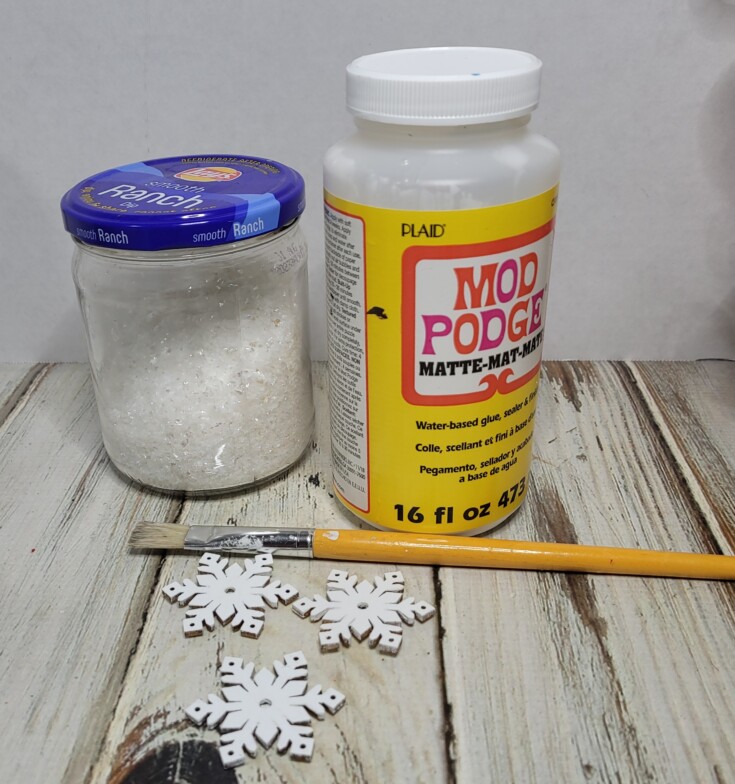 Next the stenciled ribbon was attached to the can using hot glue.
The snowflakes were attached to the can with hot glue as well.
Time to add the snowmen to their can with a few sprigs of Christmas greenery.
And that's it for these 3 snowmen in a can! I am absolutely loving how they turned out!
Supplies for the Snowmen in a Can
Wood spindle
Tin can
Burlap ribbon
2 paint stir sticks
Christmas greenery sprigs
Stencil "Let it snow"
Plaid material
Black thread
3 wood snowflakes
Fake snow
Wood glue
White chalk paint
Orange, burnt sienna, black, green, rose pink, and white acrylic paint
Air-dry clay
Scissors
Finger sander
Paint brushes
Old tooth brush
Stylus tool
Miter saw
More Fun Christmas Projects!
Christmas coasters – Red Farm Truck
Vintage funnel tree
Mini scrap wood village
Santa suits