Hi All! I am squeezing one more Christmas project in before Christmas. These easy Diy Christmas Coaster are made by decoupaging a Christmas napkin on to travertine tiles. And don't forget to check out my lastest Christmas projects for this year. My Vintage Funnel Tree, Recycled Wood Trees, and my Mini Scrap Wood Village.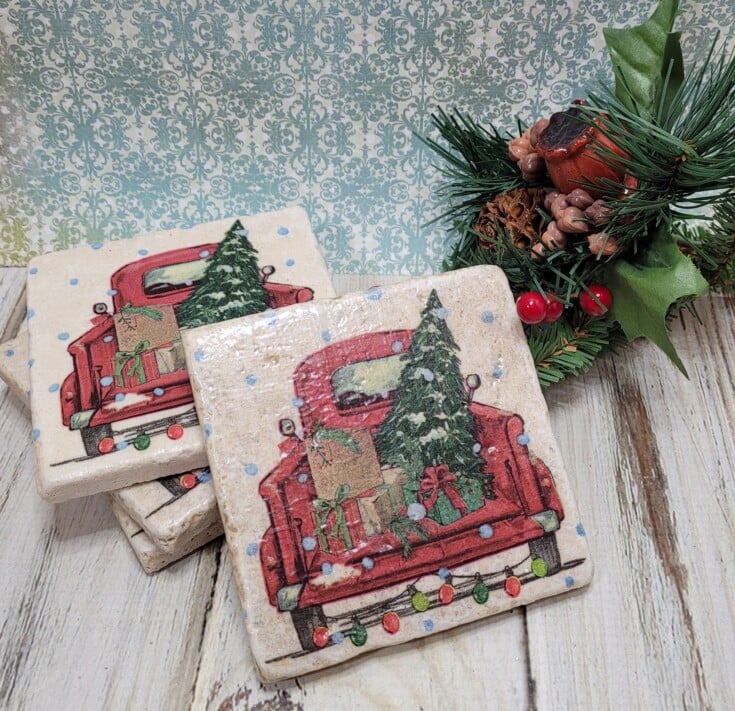 ***This post contains affiliate links… We are a participant in the Amazon Services LLC Associates Program, and affiliate advertising program designed to provide a means for us to earn fees by linking to Amazon.com and affiliated sites at no extra charge to you. Please read my full advertising disclosure for more info. Thanks so much for your support!***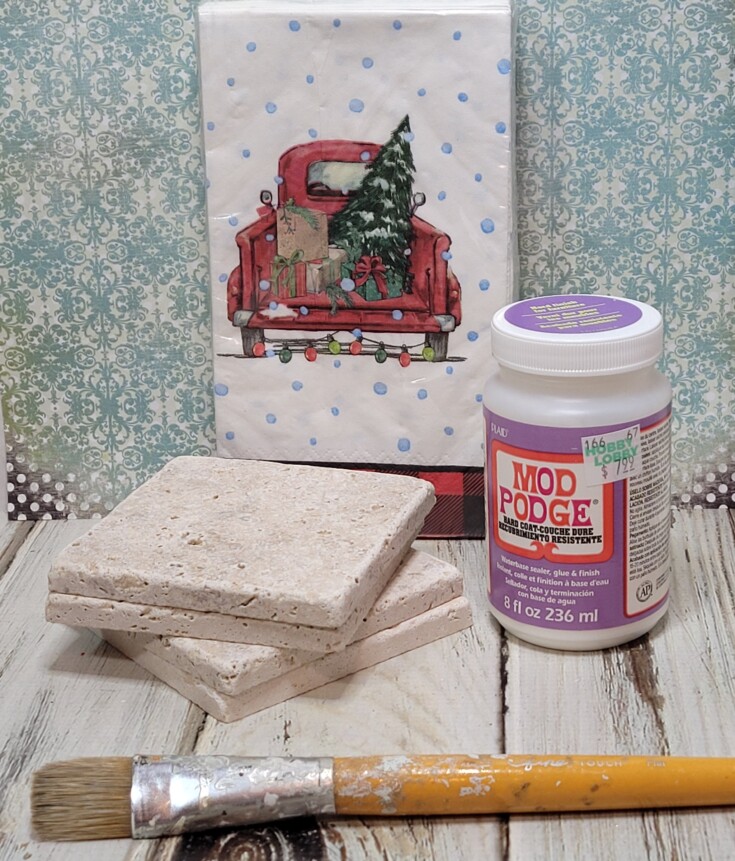 Supplies Needed
4 Travertine tiles
Mod Podge Hard Coat (purple label)
Paintbrush
2-ply Christmas napkins
Scissors
Helmsman Spar Urethan
Small felt pads
Diy Christmas Coasters
Start by washing the dust off of the tiles.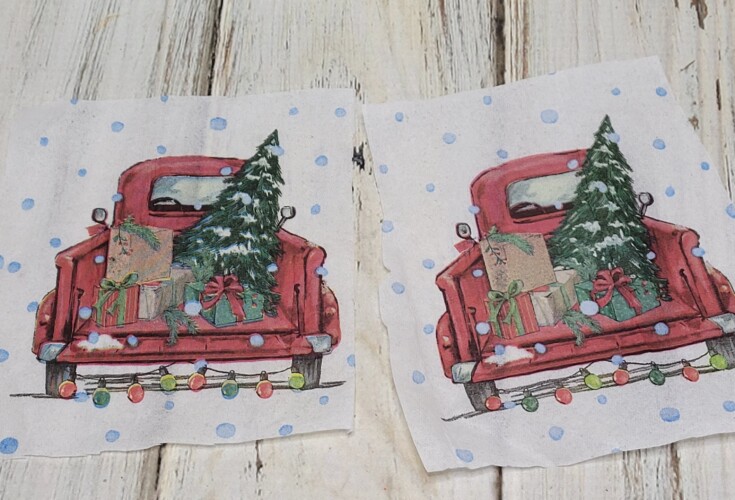 Remove the bottom layer of the 2-ply napkin, then cut the pattern out of the top layer leaving room for overlap on tiles. You will need four.
Next add a coating of Mod Podge to the top of one of the tiles. Then center the napkin pattern onto the tile and gently press and spread out on the tile. Smooth out the wrinkles best as you can.
Add a thin coat of Mod Podge on top of the tile but not on the overlap pieces.
Let dry 15 minutes. Then repeat until all four Diy Christmas Tiles have the pattern on and one coat of Mod Podge on top.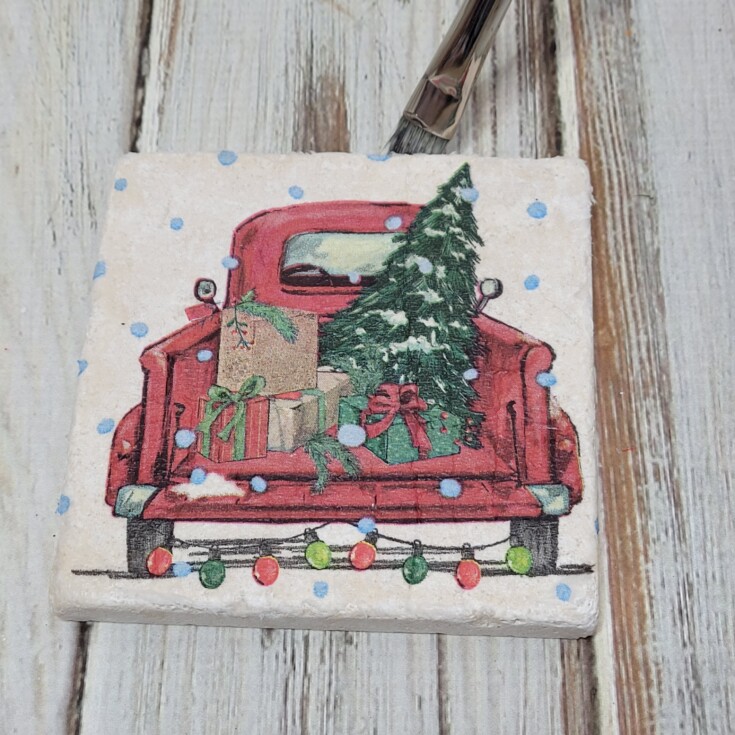 The overlap napkin pieces can easily be removed by dipping a paintbrush into water and running it down one side of the tile getting the overlap edge wet. Then gently tear off the excess overlapping and repeat till all the overlapped edges have been removed.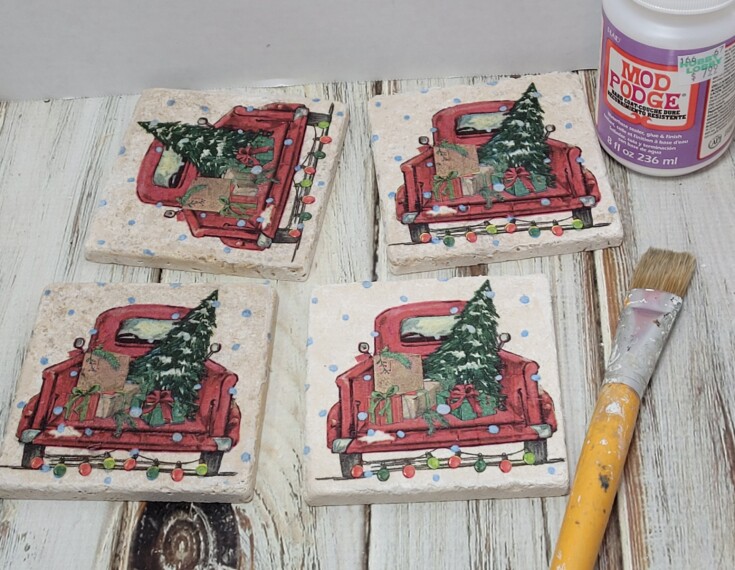 Now go back and add three more coats of Mod Podge to the top of each Christmas tile coaster. Letting dry 15 minutes between each coat.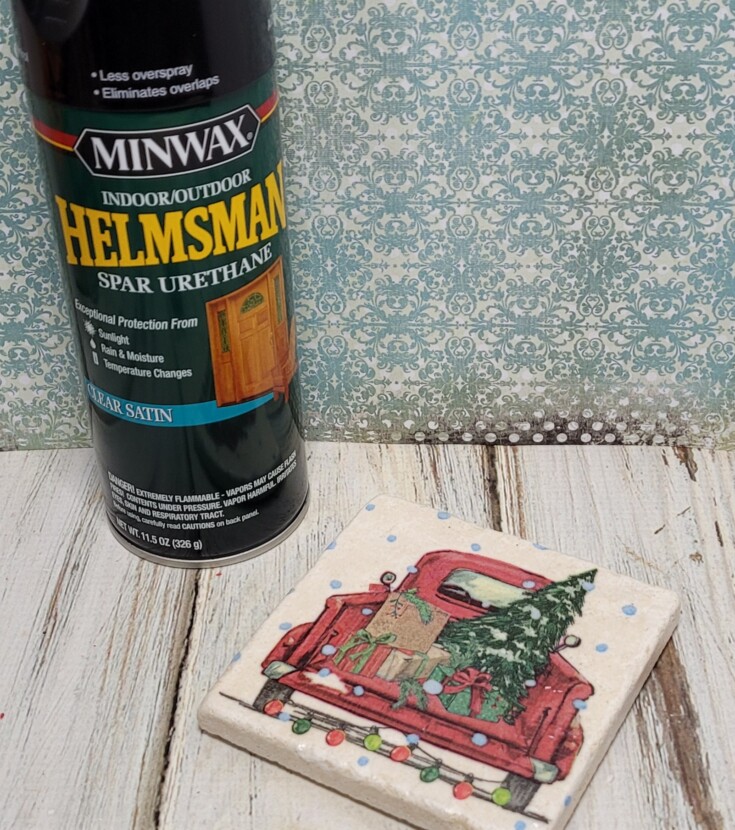 Once coasters are thoroughly dry add a coat of Helmsman Spar Urethan to help protect. Let dry overnight.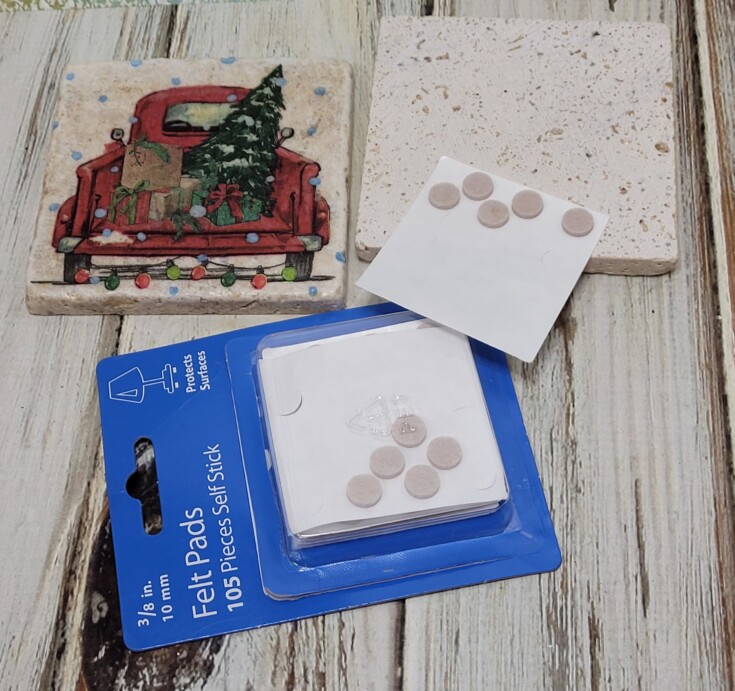 For the bottoms use craft glue and small felt pads.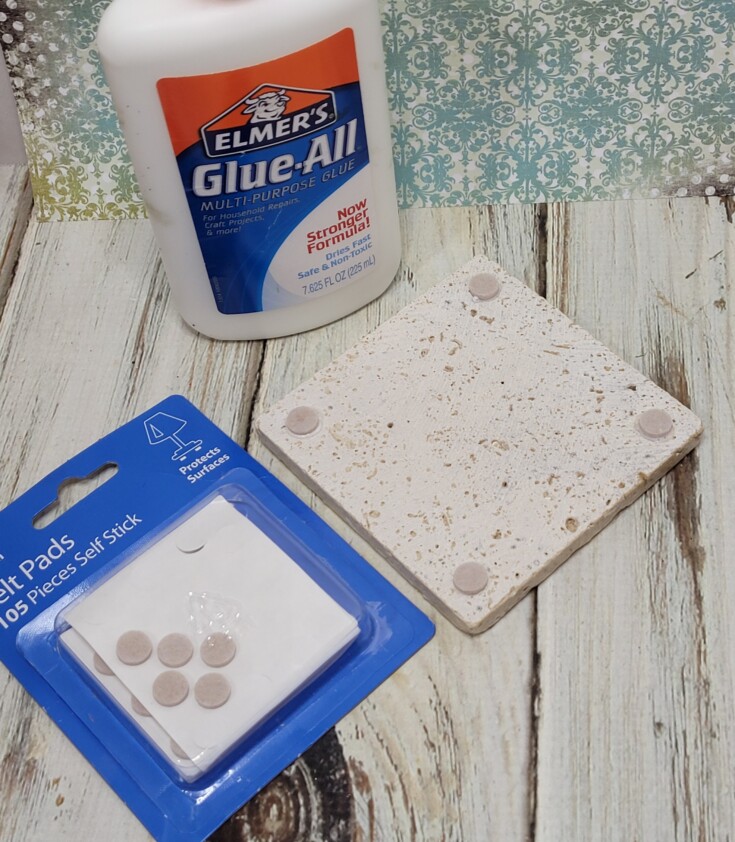 Glue one on each corner, this will help protect the furniture from getting scratched from the Diy Christmas Coasters.
That's it for theses super cute holiday coasters. Stay safe and have a Merry Christmas!!!
More Diy Coasters
Texas tile coasters
Diy Dallas Cowboys tile coasters
Easy diy tile coasters
Diy gift idea for the sports fanatic
Shabby terra cotta coasters