Hi All! This was going to be my last post for Mixed Kreations from lack of motivation and strain on my eyes when working on the computer. I can't spend over 30 minutes at a time on the computer without my vision becoming blurry. I even went as far as reaching out to Blogs for Sell. But the thought of giving up my blog has kept by mind swirling for many sleepless nights. Now I have some prescription glasses for the computer, plus the blue light blocking screen cover and I'm going to give it a while longer to see if I can get motivated and just work for shorter periods at a time on the computer. Take more breaks to rest my eyes, and stop worrying about the need to post every week. So instead of a Goodbye post today I am going to share a super simple and cheap diy yard décor project.
I picked up the items at Goodwill for under $6. That's cheap for some unique yard décor, and it's going to look so pretty in one of my flowerbeds mixed in with some flowers when spring arrives.
Supplies for Cheap Diy Yard Décor
Round Mosaic Vase
Tall candle holder stand
Rust-o-leum hammered antique pewter spray paint
Liquid nails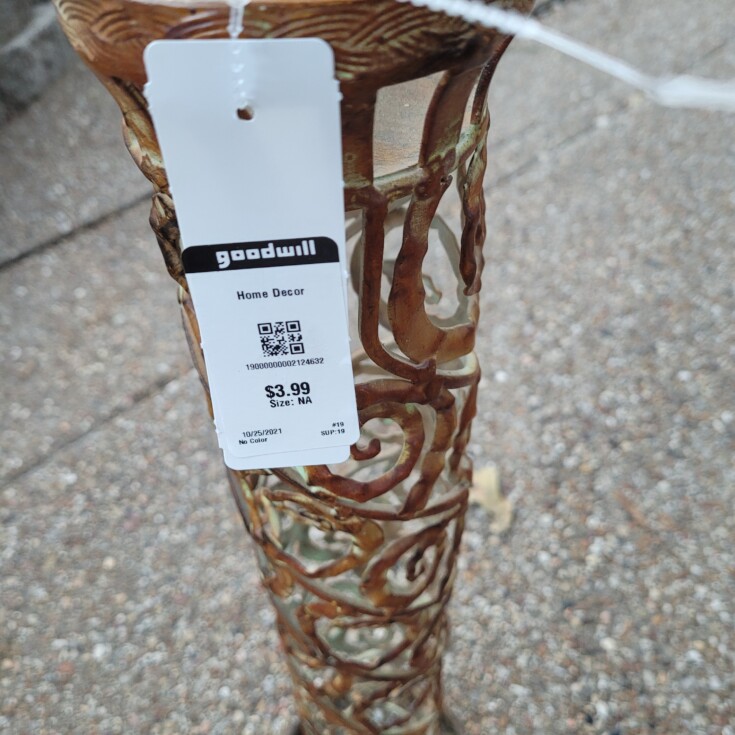 Cheap Diy Yard Décor
First, I cleaned the candle holder and vase with hot soapy water. Once dry I sprayed the candle holder stand with hammered antique pewter paint.
Next, I glued the mosaic vase on top of the candle stand using liquid nails.
Now all that's left is to find a home among my flowers once spring arrives. Can't be any easier than that for this simple, cheap diy yard décor! Do you like to make your own yard ornaments?
More Thrifty Yard Decor!
Repurposed yard sale lamp yard decor
Super easy diy yard art
Spindle angel yard art decor
Upcycled yard ornament