Hi all! Recently I have been working on projects to use around the house, like I mentioned in the post "How to make super easy Diy yard art? So, today I will be sharing this Diy Humorous Wood Sign that I now have hanging on my she-shed. I figured we could always use some humorous wood signs. Just a little warning of the type of humor you may find around here. LOL.
***This post contains affiliate links… We are a participant in the Amazon Services LLC Associates Program, and affiliate advertising program designed to provide a means for us to earn fees by linking to Amazon.com and affiliated sites at no extra charge to you. Please read my full advertising disclosure for more info. Thanks so much for your support!***
Diy Humorous Wood Sign
For this project I used two cedar fence pickets that had aged some over time, then I cut the tops off.
To make the wording for my wood sign I taped sheets of typing paper together and marked off the size of the wood. Next, I wrote in the wording by hand centering it the best I could. Then instead of using more paper for the next phrase I just flipped it over and wrote in the rest of the wording that would be hand-painted on the other piece of wood.
The paper was positioned in place with graphite paper underneath so I could trace over the words, transferring them to the wood.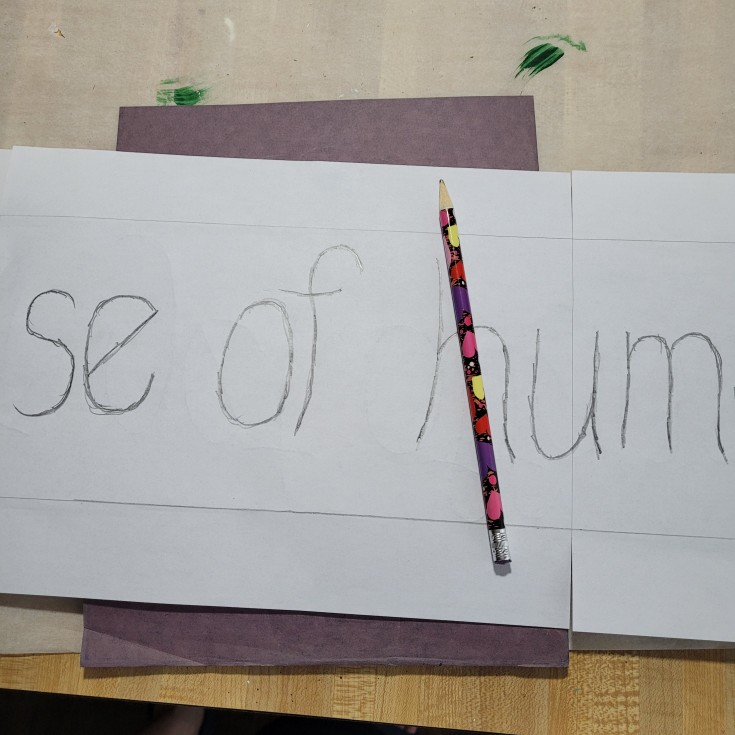 It was still pretty light so I decided to use chalk and go over the letters to make them easier to see when painting.
Starting from one end to the other I hand-painted each letter on one Diy humorous wood sign to the next. When they were both done, I went back over each letter again.
Once dry I sprayed both piece of wood with Polyurethane to seal and protect the wood signs since they would be out in the weather.
To hang my humorous wood sign, I positioned the bottom one first and used wood screws on each end. Then I place the other sign above and screwed it down with wood screws as well. And that's it for this Diy humorous wood sign.
Supplies for Humorous Wood Sign
Two cedar fence pickets
Paper & tape
Pencil
Chalk
Graphite paper
White acrylic paint
Paintbrush
Polyurethane
Wood screws
Cordless screwdriver
More Fun Signs!
Family photo display
5 easy Diy wood signs
Dreams don't work unless you do
Handmade personalized family name sign